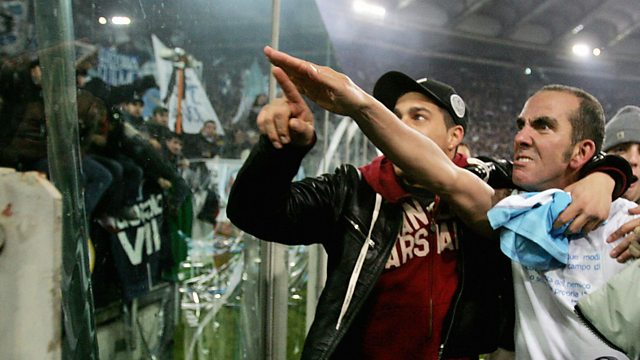 Di Canio - Fascism and football
Sports Hour, with Caroline Barker, speaks to Simon Martin from the American University of Rome who explain exactly what fascism is. How it is possible to be a fascist and not a racist and how there has always been an uneasy relationship with fascism and football in Italy.
Also the new Paralympic athletics season started with the very first Grand Prix event in Dubai, we hear how attitudes to the wider disabled community have changed in the UAE and around the world following the London Games.
We discuss the Grand National and what is it about the race that induces so much excitement from all over the world and from those who don't normally follow horse racing? We'll look at the origins of this institution and at the race through the eyes of some its great losers!
And finally we hear from much travelled manager Sven Goran Eriksson and former England International Owen Hargreaves on adapting to life in new surroundings.
Photo: Lazio's forward Paolo Di Canio gestures towards Lazio fans at the end of Lazio vs AS Roma Serie A football match at Rome's Olympic stadium 06 January 2005. According to witnesses and photographs published in the newspapers Di Canio extended his right arm to the Lazio fans who have a history of racial abuse and suspected fascist leanings. Credit: PAOLO COCCO/AFP/Getty Images
Last on