Main content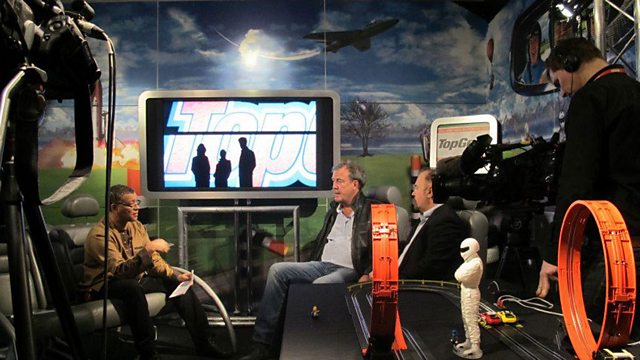 The Persian voice of Jeremy Clarkson
David Amanor introduces Jeremy Clarkson to his Iranian voice; Driving escapades; Sri Lanka censorship; reporting Argentina's Disappeared; and Brazil - hear my country
A fresh look at the week's global news from across the World Service's 27 language sections, with presenter David Amanor.
PERSIAN CLARKSON
Top Gear is huge in Iran, but while the face that presents the show is Jeremy Clarkson's, the voice is that of Mozaffar Shafeie - an actor who's been dubbing Clarkson into Farsi since the show began. But how good is he compared to the real Jeremy Clarkson? We introduce the two to find out.
DRIVING DYNAMOS
You rarely hear about the man at the wheel who gets the reporter to his location, sometimes saving their lives in the process, and occasionally doing just opposite. With Kassim Kayira of BBC Swahili, Artyom Liss from the Europe Hub and Arturo Wallace of BBC Mundo.
SRI LANKA CENSORSHIP
Repeated jamming led the BBC to pull its FM services off air this week claiming repeated interference by Sri Lanka's state broadcaster SLBC. Thirumalai Manivannan and Priyath Liyanage, editors of the Tamil and Sinhalese Service tells us all about it.
ARGENTINA'S DISAPPEARD
During Argentina's Dirty War an estimated 30,000 people disappeared. Vladimir Hernandez of BBC Mundo met the people who live in a river delta where in the late 1970s it has emerged that the military government dumped countless bodies out of air planes.
HEAR MY COUNTRY: BRAZIL
BBC Brasil love their music and there are a few musicians among them too. But how do you find one piece of music that sums up what it is to be Brazilian? We speak to Thomas Pappon, Bruno Garcez, and Monica Vasconcelos..
ONLINE GREATEST HITS
BBC Brasil's Thomas Pappon gives the lowdown on the big-hitting stories across the World Service language sites this week, including; word from a bird in Venezuela, a stoned fox in Russia, and mobile phones across the world.
Picture: David Amanor (L), Jeremy Clarkson and Mozaffar Shafeie (R)
Picture Credit: BBC
Last on
Broadcasts