Main content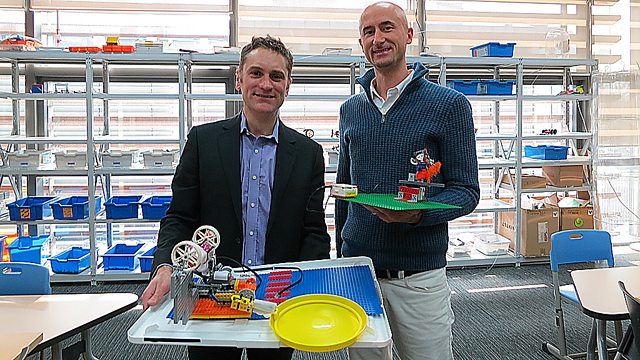 Korean child roboticists
How South Korean children learn to build and programme robots; The geekettes in Berlin hacking for themselves; A hackers guide to the galaxy
Korean child roboticists
Five year old children in South Korea are building and programming their own robots. A computer literate population will live and work in an increasingly technology friend environment. That appears to be the aim as Gareth Mitchell visits South Korea which plans to put several thousand robot helps in kindergartens this year.
(Photo: Gareth Mitchell with Gary Donohue: technology integration specialist for the 'Village' School at Chadwick International School in Songdo IBD, South Korea - © Gareth Mitchell)
Berlin's Female Hackathon
There is still a division of the sexes when it comes to jobs in technology – developers and programmers are largely men. Environments that are heavily male can be unwelcoming and off-putting. But that is increasingly changing with the rise of geekettes. Abby D'Arcy reports from Berlin on a weekend of coding that is for women only.
Hacker's Guide to the galaxy
And Click hears about the hacker's guide to the galaxy. Citizen scientist are increasingly putting their digital tools and time to good use in the pursuit of science, especially so in space exploration. Ariel Waldman discusses how space exploration is changing with their intervention, providing a low-cost alternative to what has been up until now a multi-million dollar pursuit.
Last on

Chapters
Korean child roboticists

Five year old children in South Korea build and programme their own robots

Duration: 05:29

Berlin's Female Hackathon

Abby D'Arcy reports on the geekettes in Berlin hacking for fun, without the need for men

Duration: 04:58

Hacker's Guide to the galaxy

Ariel Waldman discusses the citizen scientists who are helping to explore the galaxy

Duration: 03:03

Broadcasts