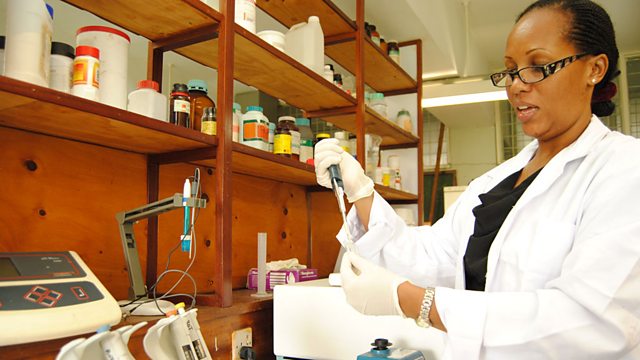 Sisters In Science
Penny Dale travels to Tanzania to explore the state of science and technology in one of Africa's poorest countries – through the eyes of its female scientists. Tanzania's leaders are trying to see science and technology as the keys to progress. The government has started to try to cut down on foreign funding and strengthen home-grown research by boosting funding. However, women are still in the minority in scientific research, even after years of campaigns to get girls to take up science subjects.
But there are pockets of excellence - and it is these pioneers we meet. Penny visits the laboratory where Tanzania's first female haematologist is working on a pilot study to screen new-borns for sickle cell anaemia. New-born screening has significantly reduced mortality from sickle cell anaemia in the West, but there have not been any studies in Africa - despite the fact that over 70% of carriers live there.
Tanzania's economy is mostly based on agriculture, and a significant amount of scientific research is now being focused in this field. Penny travels to some villages with agricultural scientists who are exploring new technologies for cassava, a crop which is resistant to the droughts Tanzania is prone to, and for feed to improve the nutritional value of chickens. And she journeys to the foothills of Mount Kilimanjaro where river pollution by nitrates in fertilizers has inspired three secondary-school girls to turn to science for solutions - and earned them top prize in Tanzania's first ever Young Scientist Of The Year competition.
We explore the science and we find out the personal stories of these women scientists - what inspired them to take up science in a society where there is not a strong culture of science, and where women still struggle to have their voices heard?
(Image: The Tanga Girls)
Last on
Sun 31 Mar 2013
19:05

GMT
Featured in...
Listen to documentaries, interviews and news items on Africa from the BBC archives

A series of programmes about what the world of the future might be like.