Main content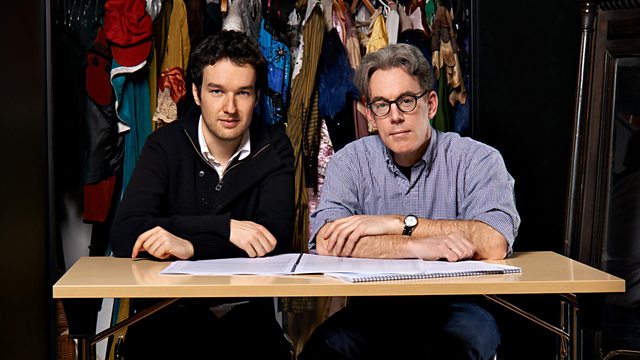 Austerity Opera: Nostra Culpa
Austerity opera, Middle East photography and Glaswegian-Iranian artist Jila Peacock.
The best of the world's arts, film, music and literature brought to you every day. Presented by Anna McNamee.
Austerity Opera
A Twitter feud between the Estonian President, Toomas Hendrik Ilves and the New York Times columnist Paul Krugman is being transformed into an unlikely opera. It's called Nostra Culpa - the Latin for "our fault".
Middle East Photography
Tanya Habjouqa, one of the founders of Rawiya, the Middle East's first all female photography collective discusses her work which is currently being shown at the New Art Exchange in Nottingham.
Jila Peacock
The Glaswegian-Iranian artist Jila Peacock talks about her collaboration with the late British composer Jonathan Harvey. He had completed a new score based on the names of Zoroastrian angels and she creates a visual response.
Image: Eugene Birman and Scott Diel - the men behind Nostra Culpa. Image copyright Kaupo Kikkas.
Chapters
Austerity Opera - "Nostra Culpa"

A twitter feud is turned into an opera in Estonia.

Duration: 05:34

Middle East Photography

Exhibition by the Middle East's first all female photography collective.

Duration: 05:23

Jila Peacock

The Iranian-born artist talks about collaborating with the late composer Jonathan Harvey.

Duration: 05:45