Viruses: in medicine, technology and in our minds
Viruses: both lethal vectors that can sow death and destruction, and clever adaptable mechanisms that could transform the future of manufacturing. And should we worry more about the viral spread of ideas and trends? Bridget Kendall's guests are the Director of the London School of Hygiene and Tropical Medicine, Peter Piot, who is the co-discoverer of the Ebola virus; bioengineer professor Angela Belcher, who uses viruses to make novel materials at the Massachusetts Institute of Technology; and psychologist Dr. Susan Blackmore, who has a special interest in the viral potential of digital technology. PHOTO: Artwork of HIV virus by Science Photo Library
Last on
Sun 24 Mar 2013
02:05

GMT
Peter Piot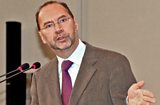 Microbiologist Peter Piot is one of the world's foremost campaigners in the fight against HIV infections and now the Director of the London School of Hygiene and Tropical Medicine. He was in Zaire when the first reported epidemic of the Ebola virus was unfolding there and he explains why some 40 years after the wider world first became aware of the virus there are continuing outbreaks of the disease in humans.
Photo credit: Getty Images
Angela Belcher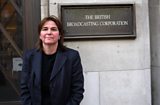 The work of Angela Belcher, Professor of Energy in Materials Science and Engineering and Biological Engineering at MIT takes viruses to another level and into another domain: she alters natural viruses, usually bacteriophages, in a way that allows her to build nanoscale tiny structures that can be used to 'grow' novel hybrid organic-inorganic materials on new length scales for the likes of solar cells or batteries. The advantage of these batteries is that they could be manufactured at near room temperature, using no harmful solvents or toxic materials.
Virus battery by Angela Belcher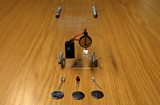 Angela Belcher with virus battery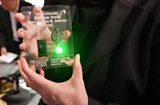 Abalone shell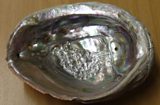 Abalone seashells inspired Angela Belcher with her work. She mentions that they consist primarily of calcium carbonate, but because of how abalones synthesize the soft calcium carbonate with proteins, the shells form the resilient and beautiful sheen we see above.

Susan Blackmore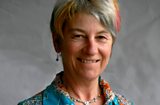 Psychologist Susan Blackmore says that we now talk about 'viruses' that 'infect' computer programmes, or 'viral advertising' on social networks,  or  'contagion'  across global financial networks: so we've become quite comfortable with the analogy between the spread of microbes and ideas, or memes. But are we now entering a world where techno-memes, or temes, begin to replicate outside of human control?
60 second Idea to Change the World
Susan Blackmore wants us to imagine a world where specially engineered bacteria munch away on plastic, especially all those millions of plastic bags and bottles that we thoughtlessly discard. While some countries are making an effort to reduce this needles pollution, others are lagging far behind, so maybe most of us need the spectacular inconvenience of our bags and bottles turning into useless goo at the supermarket check-out to spur us into action.
In Next Weeks' Programme
The Forum joins in the What If season here on BBC World Service. Bridget Kendall will be asking theoretical physicist Michio Kaku, neuroscientist Barbara Sahakian and writer Karen Lord to present their very own What If scenarios, in 60 seconds each, of course!