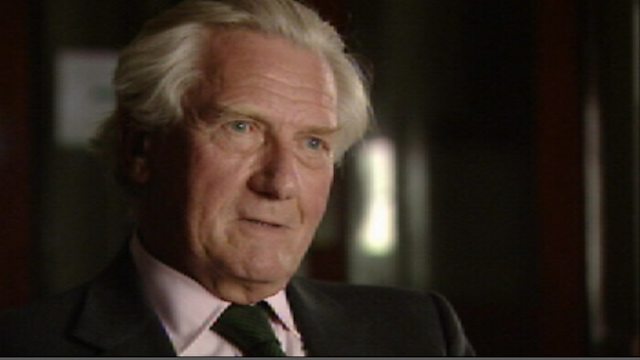 Michael Heseltine uncovers his Welsh ancestry.
Former Deputy Prime Minister, Lord Michael Heseltine, returns to his family home in Eaton Crescent, Swansea. He identifies the house where he was born on 21 March 1933. The family then moved just a few hundred yards to No 1 Uplands Crescent to live with his grandparents during the Second World War while his army officer father was serving abroad.
"I have memories of Brynmill Park. In 1942 I won the junior angling competition. I caught 39 fish, it was quite a triumph!"
"If you say 'What nationality do you think you are?' I would say Welsh. I was born and brought up largely in Wales and I feel a huge loyalty — I regard Wales as home."
The life peer's maternal great great grandfather was Thomas Pridmore, a hard-working docker. His paternal great grandfather, William Ray was a farm labourer in Pembrey, whom historian Dominic Conway describes in the programme as "the poorest of the poor".
The former deputy Prime Minister learns that his relatives had died from the side-effects of poverty typhus, TB and malnutrition before being buried in unmarked graves in Danygraig Cemetery in Port Tennant.
His affluent background was a result, in part, from his dynamic grandfather James Pridmore who escaped his humble docker's beginnings to establish his own successful coal business, based in one of the buildings just behind the Evening Post's offices in Swansea's Maritime Quarter.
Featured in...
Highlights of favourite BBC Wales programmes reflecting the story of Wales and its people.