Main content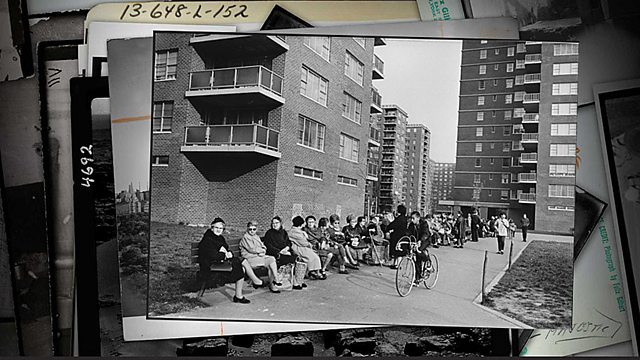 High-rise's digital life
Interactive documentary series charts the fear and thrill of high-rise life;Flickr's plans for your digital data in enhancing the photographic experience;Robots assemble in Zurich?
High-rise Life
An innovative series of interactive documentaries currently in production aims to chart the fear and thrill of high-rise life. The New York Times is collaborating with film makers from Canada who aim to show how modern life has been shaped by high-rise accommodation. The New York Times has opened its photographic archives to the project, and readers of that paper are also being encouraged to submit their personal photos. Click hears from the New York Times's Jason Spingarn-Koff and the director of the Highrise project, Katerina Cizek.
(Photo credit: Rochdale Village in Queens, New York City, from the New York Times' photo archive – taken by staff photographer, Sam Falk in 1966)
Flickr and your data
Flickr plans to put your digital data to use in enhancing the photographic experience. But other than encouraging greater sharing, what use does Flickr have in mind; and with the garnering of this additional information does it raise concerns about privacy? Gareth Mitchell talks to Markus Spiering from Flickr.
Robots on Tour
At a former factory space in Zurich's industrial park robot watchers began queuing around the block earlier this month to meet the electrical friends we might soon introduce to our daily lives. Jamillah Knowles visits the Robots on Tour exhibition where some of the world's finest robot creators gathered for a symposium and to share their work with the public. Apart from the odd robotic vacuum cleaner, robots tend to be machines that are found doing heavy lifting in factories. They are seen as big and sometimes dangerous, but this exhibition is working to change our perception and to let us know that robots are our friends.
Last on
Chapters
High-rise Life

An innovative interactive documentary series charts the fear and thrill of high-rise life.

Duration: 08:04

Flickr and your data

Flickr's plans for your digital data in enhancing the photographic experience.

Duration: 02:33

Robots on Tour

Jamillah Knowles reports from Zurich on the future of robots.

Duration: 04:13

Broadcasts