Main content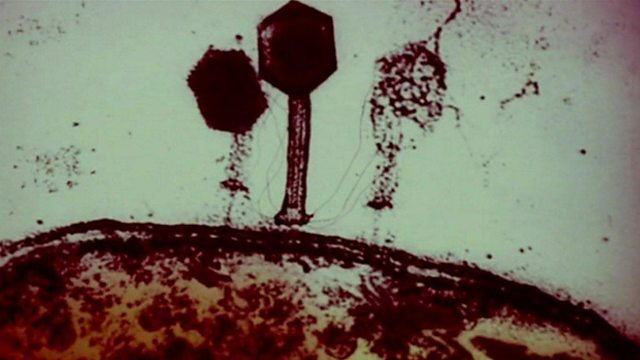 Bacteriophages
An alternative to antibiotics in the fight against bacteria; Phage therapy potential; The mental health of those who lived through Fukushima; Does cheese give you nightmares?
Bacteriophages in Georgia
The subject of antibiotic resistance has been in the news this week with a warning coming from Britain's Chief Medical Officer, Dame Sally Davies, that the threat from microbes becoming resistant to antibiotics should be ranked alongside terrorism and climate change.
Phage therapy, where harmless viruses are used to kill the specific bacterium causing an infection, is a potential alternative. It is a treatment that has been used throughout the former USSR for the past 90 years and is becoming ever more popular, as the BBC's Damien McGuinness reports from the Georgian capital Tbilisi.
The Potential of Phage Therapy
Research councils have begun putting more money into phage therapy and Dr Martha Clokie, Reader in Microbiology at Leicester University in the UK, is suddenly finding that scientific meetings on the subject are packed out. But critics say that so far the field has failed to deliver with very few trials having taken place, so could phage therapy really ever be a replacement for antibiotics?
Fukushima Mental Health
This week was the second anniversary of the tsunami, earthquake and disaster at the Fukushima nuclear power plant in Japan. Last year a survey of more than 200,000 people living in the area found that levels of extreme stress are three times the national average. Another survey this year is soon to be published, and will illustrate whether mental health has improved or deteriorated in that time. Meanwhile psychiatrists such as Yuriko Suzuki from the National Institute of Mental Health in Tokyo regularly visit the region. She tells us what help is being given.
Health Myth
Is it true that cheese gives you nightmares? Professor Matthew Walker is a neurologist at University College London.
Picture credit: A bacteriophage attack on a bacteria, Eliava Institute, Tbilisi, Georgia
Last on
Chapters
Bacteriophages in Georgia

An old weapon in the fight against bacteria

Duration: 05:42

The potential of phage therapy

Could it ever be a replacement for antibiotics?

Duration: 04:22

Fukushima two years on

The mental health effects of those who lived through the disaster

Duration: 05:18

Health myth

Does cheese give you nightmares?

Duration: 01:45

Broadcasts