Iraqi Doctor Battling to Save Children
Iraqi cardiologist Firas al Kubaisy describes the serious levels of congenital heart defects in and around Fallujah, and his feelings on carrying out his first hole in the heart operation.
Also, following the news that Hugo Chavez of Venezuela will join the ranks of former world leaders who have been embalmed for display, we talk to Frank Malabed, an embalmer from Manila who embalmed the body of Ferdinand Marcos, the former President of the Philippines.
And Will Moult, the young British man who was adopted as a baby from a Romanian orphanage, recalls tracking down his birth mother.
Picture: Dr Firas al Kubaisy
Picture credit: http://preemptivelove.org/
Last on
Tue 12 Mar 2013
12:05

GMT
Will Moult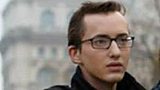 Will Moult, a British man adopted as a baby, in Romania on a visit to meet his birth mother.