Main content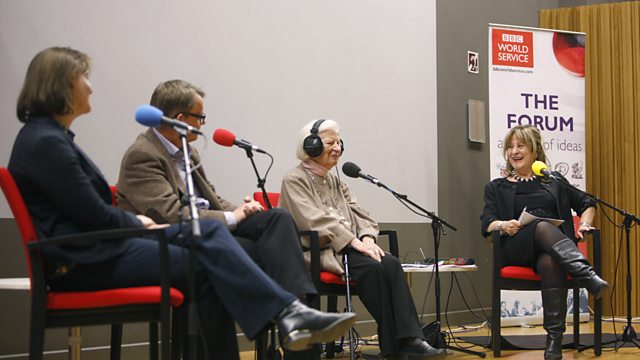 The Challenge of Ageing
The key challenges of ageing: writer PD James, statistician Hans Rosling, gerontologist Sarah Harper, and Helena Kennedy QC at the Space For Thought festival at the LSE.
Does the future belong to the old? And is it time to re-define what we actually mean by Old Age? Joining Helena Kenendy QC on stage at the London School of Economics is the celebrated Swedish statistician Hans Rosling, renowned crime writer PD James, now in her nineties, and Oxford Professor of Gerontology Sarah Harper. Plus a live audience at the Space For Thought festival at the LSE.
Photo credit: Nigel Stead.
Last on
Chapters
Baroness Helena Kennedy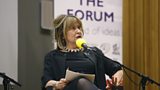 Helena Kennedy is a leading barrister and an expert in human rights law, civil liberties and constitutional issues. She is a member of the House of Lords and chair of Justice – the British arm of the International Commission of Jurists. She is a bencher of Gray's Inn and President of the School of Oriental and African studies, University of London. She was the chair of Charter 88 from 1992 to 1997, the Human Genetics Commission from 1998 to 2007 and the British Council from 1998 to 2004. She also chaired the Power Inquiry, which reported on the state of British democracy and produced the Power Report in 2006. She has received honours for her work on human rights from the governments of France and Italy and has been awarded more than thirty honorary doctorates. Photo credit: Nigel Stead
Hans Rosling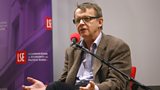 Hans Rosling is a Swedish medical doctor, academic, statistician and public speaker. He is Professor of International Health at Karolinska Institute and Director of the Gapminder Foundation, which developed the Trendalyzer software system. Recently, he has gained a high profile as a speaker at many international TED conferences on issues of global development, using his energetic presentations to help advance public understanding of poverty through accessible statistics. He is an advisor to the Global Poverty Project, launched in 2012, to tackle extreme poverty globally. Photo credit: Nigel Stead
P.D. James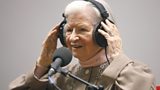 Phyllis Dorothy James, Baroness James of Holland Park, OBE, FRSA, FRSL, commonly known as P. D. James, is an English crime writer and a life peer in the House of Lords. She is most famous for a series of detective novels starring policeman and poet Adam Dalgliesh. She is a Fellow of the Royal Society of Literature and of the Royal Society of Arts and has served as a Governor of the BBC, a member of the Arts Council, where she was Chairman of the Literary Advisory Panel, on the Board of the British Council, and as a magistrate in Middlesex and London. She has received honorary degrees from seven British universities, was awarded an OBE in 1983, and was created a life peer in 1991. Photo credit: Nigel Stead
Sarah Harper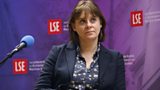 Sarah Harper is Professor of Gerontology at Oxford University and Director of the Oxford Institute of Population Ageing, a multi-disciplinary research unit concerned with the implications of future population change. Sarah trained as an ethnographer and her early research focused on migration and the social implications of demographic change. Her current work concerns globalization and global population ageing. Following her early post-doctoral research in China, Sarah has continued her interest in the Asia–Pacific Region. She has worked and lectured in Japan, China, Korea, Singapore, Hong Kong, Australia and New Zealand, and was the 1st holder of the International Chair in Old Age Financial Security established at the University of Malaya in 2009. Photo credit: Nigel Stead
Sarah Harper, Hans Rosling and P.D. James wait to go on stage at the LSE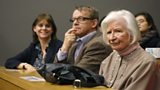 Photo credit: Nigel Stead
The Forum panel in front of the audience at the Sheikh Zayed Theatre at the LSE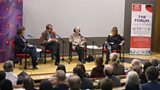 Photo credit: Nigel Stead
In next week's programme
Making good law: how to create effective legislation, from drawing up a country's constitution to protecting an individual within society. With former candidate for presidency in Lebanon and human rights lawyer Chibli Mallat; Shlomit Wallerstein, fellow in criminal law from Oxford University; and prominent international lawyer Philippe Sands.
Broadcasts