Main content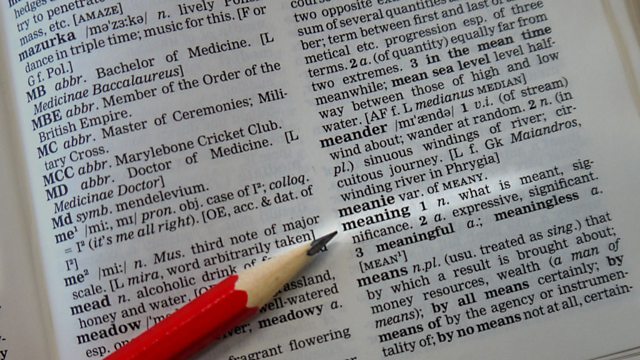 Meaning in Life
Meaning in life: what is it, exactly, that makes our lives worthwhile? And who decides?
What is it that makes your life worthwhile and meaningful, whether you are an atheist or a believer? And can we find it by looking into ourselves or do we need to be appreciated by others?
Bridget Kendall's guides through the labyrinth of possibilities are professor of philosophy at the University of North Carolina at Chapel Hill Susan Wolf; writer, philosopher, television presenter and entrepreneur Alain de Botton; and archaeologist-turned-novelist Alexandre Mitchell.
Last on
Chapters
Susan Wolf

Duration: 09:39

Alain de Botton

Duration: 13:21

60 second idea: Culture to the rescue of higher education

Duration: 06:26

Alexandre Mitchell

Duration: 11:04

Susan Wolf

What is it that gives your life meaning: Is it what makes you happy? Or what makes you feel good for helping others? Or is there a third elusive category that covers all those activities that make us neither happy nor good, but somehow adds value to our lives? Questions which philosopher Susan Wolf asks in her

book

and in this week's programme.

Alain de Botton

Alain de Botton also wants us to enrich our appreciation of life and answer our need for meaning. In his latest book Religion for Atheists, he argues that one of the problems is that we humans tend to overplay our own significance in the world. So we should spend more time contemplating the vastness of the universe and how meaningless our existence is in comparison. Finding meaning through recognizing we don't matter?

Alexandre Mitchell

How do you find the meaning which an ancient object had for their original owners? Archaeologist and

fiction writer

Alexandre Mitchell is often faced with the task of working out how and why people used a particular object centuries - or even millennia - ago. But can we ever understand ancient Greeks or Romans from our modern vantage point and in a completely different context? And does knowing what the future holds change your views on what we find meaningful?

60 Second Idea to Change the World

Jane Austen as a self-help tool?  Philosopher Alain de Botton believes that schools and universities poorly equip students to face the challenges and dilemmas of daily life, from how to have relationships or raise children, to how to manage one's anxieties and ambitions. So he wants to reform the education system using great novels, plays or paintings as conduits for contemplating some of the large and important questions in life. So, goodbye courses on Narrative Trends in 19th Century French Novel! Instead, how about lessons in Surviving the Tensions of Marriage, or Coping with Death?

In Next Week's Programme

The Challenge of Ageing: guest presenter Baroness Helena  Kennedy is joined by a live audience at the London School of Economics' festival Space for Thought, as well as Swedish champion of visual statistics, Hans Rosling;  founder of Oxford's institute of aging, Sarah Harper; and one of Britain's sprightliest of nonagenarians, crime writer  PD James.

Broadcasts