Main content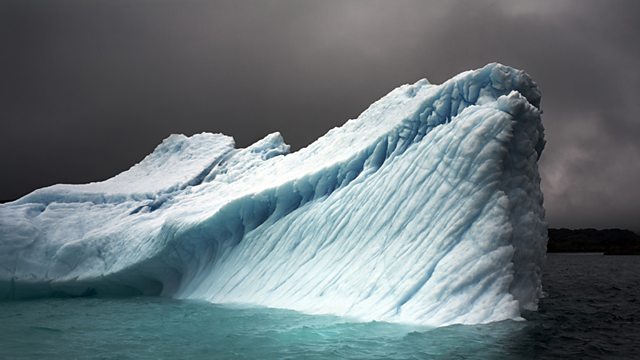 Ice
What's it like to get up close and personal with an iceberg? And how is the future of ice bound up with our own? We ask a glaciologist, an ice engineer and a polar photographer.
A journey into the kingdom of ice, with Danish glaciologist Poul Christoffersen, just back from measuring the effects of a warming ocean on the Ross Ice Shelf in Antarctica; American engineer Mary Albert who studies ancient snow cores for crucial past climate clues; and Camille Seaman, a Native American artist whose photos of polar icebergs are 'portraits of individuals'. Photo: Breaching Iceberg – Greenland, August 8, 2008 © Camille Seaman
Chapters
Mary Albert

Duration: 13:41

Poul Christoffersen

Duration: 09:19

60 Second Idea: Trees for Meat

Duration: 05:32

Camille Seaman

Duration: 11:58

Mary R Albert

Mary Albert is Professor of Engineering at Thayer School of Engineering, Dartmouth in the US.  She is also executive director of the US Ice Drilling Program.  Her work is focused on firn, or ancient snow, extracted from the Greenland and Antarctic ice sheets.  She is examining firn's microstructure and how it traps atmospheric gases, before it is compressed into ice and those gases are contained as bubbles within it.  This will help us to better understand our record of past climate, gleaned from ice cores, that now goes back 800,000 years. 

Poul Christoffersen

Poul Christoffersen has just returned from Antarctica, where he's been measuring the effects of a warming polar ocean on the Ross Ice Shelf – a tongue of ice the size of France, which extends outwards from the landmass.   Poul is a Senior Lecturer at the Scott Polar Research Institute in Cambridge University, and he says this kind of collaboration between glaciology and oceanography is forming a new frontier of climate science.

Camille Seaman

Award-winning Native American African American artist Camille Seaman, was raised to believe that everything is connected.  She has been travelling to the polar regions to take photographs of ice for the last ten years, and says when she stands in front of an iceberg, she feels that she is meeting one of her ancestors.  She tries to convey her sense of awe and wonder through her pictures, for the benefit of viewers who will probably never get to go there themselves.

Camille Seaman: Iceberg in the Evening – Greenland, August 11, 2009

© Camille Seaman. Used with permission.

Camille Seaman: Sea Ice Remnant Svalbard, July 17, 2008

© Camille Seaman. Used with permission.

Camille Seaman: Grand Pinnacle Iceberg, East Greenland 2006

© Camille Seaman. Used with permission 

Camille Seaman: Giant Tabular Iceberg, Weddell Sea, Antarctica 2005

© Camille Seaman. Used with permission. 

60 second Idea to Change the World

Mary Albert proposes that everyone who lives in a country where the average annual meat consumption is more than 80 kg per person, should plant two trees a year, to offset the CO2 emission required for producing that amount of meat. So meat eaters in the U.S. where the average consumption each year is 122 kg, and carnivores in Australia, UK and Brazil would all have to get planting.  However, in India and Bangladesh, where the figure is just 3 kg per person, no-one would have to do this off-setting. With CO2 levels at a 15 million year high, this idea would make people take more notice of the link between what we choose to eat, and the air we'd like to breathe.

In Next Weeks' Programme

Leading philosophers Susan Wolf and Alain de Botton discuss the search for meaning in life. Is it just a luxury for wealthy westerners, or is it something we all crave?