Main content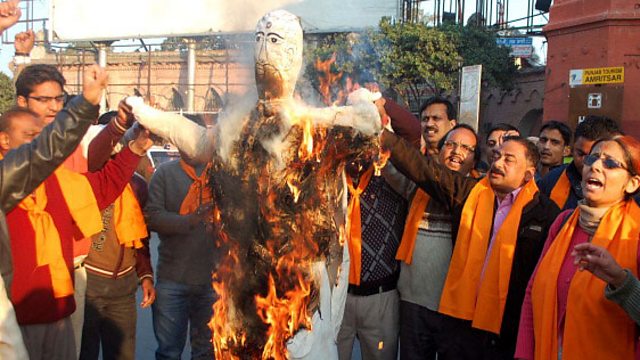 Sita, Draupadi and Kali: Women in Hinduism
In the aftermath of the Delhi gang rape, Sunita Thakur explores the rich tradition of female goddesses in Hinduism.
The gang rape in December last year of a student in Delh, which ultimately led to her death, has awakened a fury across all sectors of society in India, and not just amongst women. Amongst that anger and frustration at the rising violence against women, many religious leaders argue that women should go back to 'tradition'. One even suggesting that the victim was somehow to blame for not giving into her attackers and seeing them as 'brothers.'
Traditionally though, as Sunita Thakur reports, the most dominant role models for Indian women are powerful Hindu goddesses. And she asks whether the worship of the female figures for their power and glory is at odds with the views men have of women in wider Indian society.
Sunita hears from women who help her explore the history of the most famous Hindu goddesses such as Sita, who, when asked by her husband to prove her chastity, refused, returning to mother earth instead. And Draupadi, gambled away by one of her five husbands, she refuses to comply, and threatens to provoke a war to get justice.
But how is it that the deification of such strong Hindu goddesses; role models to both men and women, doesn't translate into respect for ordinary women in India, who remain second class citizens? Sunita hears how in the past centuries, Hinduism, led by men has reinterpreted these figures to maintain the patriarchal society which still remains. And the reaction to the brutal attack on the 23 year old student is just an extension of the way women are viewed in the country today, despite Sita, Draupadi, Saraswati and Laxmi.