Bahraini Banker Turned Human Rights Activist
As a well-to-do investment banker in Bahrain, Jihan Kazerooni felt far removed from the anti-government protests which started there in 2011. But when she saw how the authorities responded to the demonstrations, her life changed forever.
Also in this episode, we meet the cat who helped former homeless man and drug addict, James Bowen, turn his life around. Bob the cat is now a celebrity with a bestselling book about his life.
Picture: Jihan Kazerooni at a protest
Last on
James Bowen and Bob the cat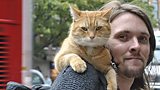 They met on the streets of London when James was busking for a living. It's hard to say who adopted whom - but they soon became inseparable.