Main content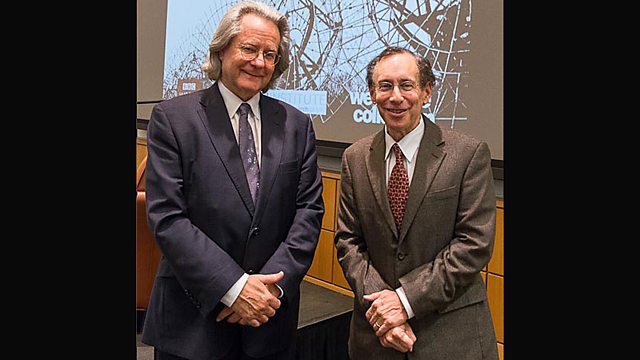 Robert Langer - Biochemical Engineer
What life-saving treatments are in the pipeline from the realm of medical tissue engineering?
Philosopher AC Grayling and a public audience question the world's leading scientists about the impact and importance of their work for this year's Exchanges at the Frontier.
Robert Langer heads an extraordinary biochemical laboratory. He and his team have developed treatments which are in use in every major hospital in the world including locally delivered chemotherapy, artificially-generated human tissue, tumour growth restrictors and gel that fixes damaged vocal chords.
Langer is a founding father of tissue engineering and controlled drug release and is unusual as an academic in that his discoveries have led to him hold over 800 patents, found 25 companies and license his technology to 250 more.
Anthony Grayling and an audience drawn from the world of biochemistry put questions to Langer and asked him about his unique approach to the challenges that illness poses and the life-saving devices he has in the pipeline.
Robert Langer is David H Koch Institute Professor at MIT, USA. Last year Langer won the Joseph Priestly prize for chemistry, and in 2002 he won the Charles Draper Award – considered the Nobel Prize for engineering, both pursuits which are traditionally a long way from medicine where he has made his indelible mark.
(Image: AC Grayling (left) and Robert Langer (right), Credit: Justin Knight)