Main content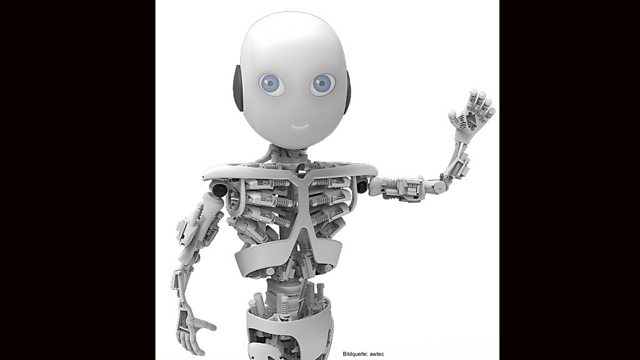 Roboy nears completion
Crowd-sourced Roboy, the boy robot gets his arms, legs and head; Developing the braille smart phone; The future of bendy, flexible phones
Chapters
Roboy

Crowd-sourced Roboy, the boy robot gets his arms, legs and head.

Duration: 04:16

Braille phone

Sumit Dagar describes the braille smart phone that's in development.

Duration: 03:50

Flexible phones

Katia Moskvitch investigates the latest in flexible technology.

Duration: 04:53

Roboy

Roboy is a messenger of a new generation of robots that will be friendly and interact with people.  It aims to promote a positive message about the possibilities of human/robot interactivity.  The robot is in development; and has a skeletal-like body with arms, legs, spine and head.  The robot has been crowd-funded and is being put together in less than a year.  By March the research team hope to have completed Roboy and given him the possibility of riding a tricycle.  The key architect of the project, Professor Rolf Pfeifer talks to Click about the development of Roboy.

(Photo credit: Roboy.org)

Braille phone

Smart phones are increasingly touch-screen based.  They are not yet ubiquitous.  But as well as those who are never going to be able to afford to buy such a phone, spare a thought for the visually impaired who will never find them useful.  That was the idea that drove Sumit Dagar to bring together a team to develop a braille smart phone for people with visual impairments.  Sumit Dagar joins Click to discuss the challenge of creating such a phone.

(Photo credit: Sumit Dagar)

Flexible phones

Recently Click TV's Dan Simmons demonstrated that some allegedly unbreakable phones at the CES trade show in Las Vegas were actually breakable.  But, increasingly, companies are looking into new materials that will render mobile phones much more flexible.  BBC News technology reporter Katia Moskvitch has been investigating the latest in flexible technology.