India's Lost Girls
In a major investigation for the BBC World Service, Natalia Antelava reports on how girls are abducted from poor parts of India like West Bengal and sold into a life of violence and abuse. They are taken by traffickers to wealthy areas like Haryana where they are in demand as brides, fulfilling a need created by the shortage of women, which many blame on sex-selective abortions.
Others end up in brothels in cities like Delhi. Natalia joins campaigners and police fighting the trade and hears the stories of the trafficked girls and their families.
Listeners may find some of the details of this report distressing.
Produced by Natalie Morton
(Image: Parents with photo of trafficked child in India) Copyright BBC
Last on
Sun 13 Jan 2013
13:05

GMT
Presenter: Natalia Antelava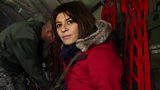 Natalia Antelava is a BBC correspondent currently based in Delhi. Natalia's career in journalism began in 2001 in Dakar, Senegal when she filed her first reports for the BBC African service. Since then she has been based for the BBC in the Caucasus, Central Asia, covering the post-Soviet 'Stans' and most recently in Beirut, Lebanon. Natalia has reported from many global hotspots, including Iraq, Iran and Yemen. She covered the Georgia - Russia war in 2008 and has reported undercover from Uzbekistan, Burma and Yemen. Last year, Natalia's documentary on child abuse deaths in the United States won her an Emmy nomination, while her investigation into forced sterilisations in Uzbekistan won the best Radio story of 2012 Foreign Press Association Award.