Main content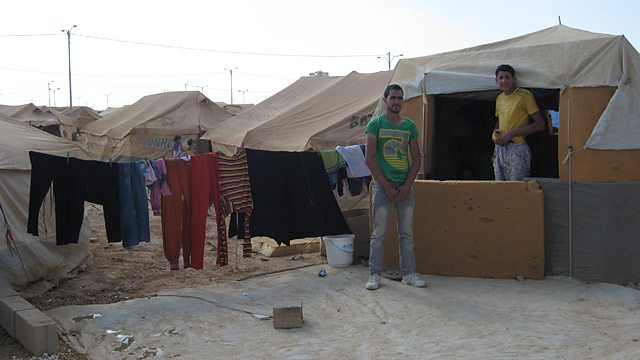 Syria: Refugees' trauma
The psychological scars of Syrian refugees in Jordan. Dispelling the myth that cooking milk and fish together causes vitiligo. An unexpected benefit of having vitiligo
Syrian Refugees Mental Health
Half a million people have fled Syria since the start of the civil war. Many are suffering from post-traumatic stress disorder, having witnessed appalling scenes of violence, but they can be reluctant to seek psychological help due to the stigma surrounding mental health issues.
To get a picture of what is happening on the ground, Claudia Hammond hears the testimony of Dr Mohammed, who works with Syrian refugees in the Zaatari refugee camp on Jordan's northern border, and Dr Omar, a Syrian psychologist who now lives in Jordan and helps refugees with counselling in their home.
Vitiligo
Vitiligo is a skin condition where patches of skin lose their pigment and go white, usually symmetrically and on the backs of the hands, around the mouth or eyes. These patches can also appear on the knees and elbow areas. Occurring in around 0.5% of the population, it affects people of all races equally, but it is most problematic in those with darkly pigmented skin. It is a condition which attracts some strange myths, including the idea that cooking fish in milk can cause it. But as consultant dermatologist Tony Bewley told Health Check, there is no truth in this idea at all.
Vitiligo and Skin Cancer Protection
New research published in the British Journal of Dermatology has found that people with vitiligo are less likely than everyone else to get skin cancer. Professor David Gawkrodger is a Consultant Dermatologist at the Royal Hallamshire Hospital in Sheffield and he says this is the best piece of work to date on skin cancers in people with vitiligo.
(Credit: Dale Gavlak)
Last on
Christmas Eve 2012
02:32

GMT
Chapters
Syrian refugees' mental health

The Psychological scars of Syrian refugees that have fled to Jordan

Duration: 08:02

Why do people get vitiligo?

Dispelling the myth that cooking milk and fish together causes the disease

Duration: 03:19

Skin cancer protection

The unexpected benefit of having vitiligo

Duration: 05:34

Broadcasts

Christmas Eve 2012

02:32

GMT