Main content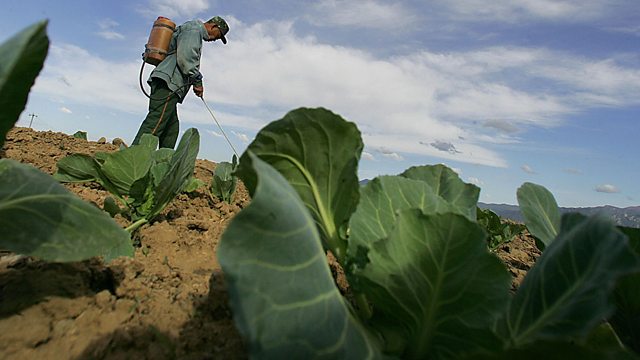 Organophosphates
What effect does low level exposure to organophosphates have on the nervous system? Battling Chagas in Mexico. 17th C anatomist William Harvey's discovery of blood circulation
Organophosphates
Organophosphates are the most widely used insecticides in the world in agriculture, and in industry they are used as lubricants, plasticizers and flame-retardants. Despite their usefulness in food production and disease prevention, the risks of acute poisoning are accepted as it has been known for some time that they can damage the brain and the nervous system.
What is more controversial is whether there is a risk from low-level exposure to organophosphates. Safety regulations vary considerably and there is particular concern about increasing use of them in low income countries. Dr Sarah Mackenzie Ross, a neuropsychologist at University College London, is lead author for the world's first review or meta-analysis of studies on this topic between 1960 and 2012. It has just been published in the journal Critical Reviews in Toxicology.
Chagas Disease
Chagas disease is the most common parasitic killer in the Americas and claims more lives every year than malaria, yet many people have never even heard of it. Not only do countries suffer from a lack of understanding about the disease, but also an apparent lack of political will to address it. In Mexico, a group of health workers and NGOs have set up the country's first association for people affected with Chagas disease. If it works, it could become a blueprint for other parts of Latin America. The BBC's Will Grant reports from Mexico.
Wellcome Trust Book Prize Winner
Today we know that it is the heart that pumps blood around the body, but before the 17th century it was thought that every organ in the body was both independent and intelligent and could draw in the blood they needed to sustain them. Then an English anatomist called William Harvey came up with a revolutionary idea. He is the subject of the new book Circulation by Thomas Wright, who has just won the lucrative Wellcome Trust Book Prize.
(Image: A farm worker sprays crops with insecticide, Credit: AFP/Getty Images)
Last on
Chapters
Organophosphates

What effect does low level exposure to them have on the nervous system?

Duration: 05:38

Battling Chagas disease

A new approach to the tackling the problem in Mexico

Duration: 06:24

17th Century physician William Harvey

The subject of "Circulation" by Thomas Wright, winner of the Wellcome Trust book prize

Duration: 04:43

Kissing Bug

Carrier of the Trypanosoma Cruzi parasite that causes Chagas Disease (Credit: http://www.flickr.com/photos/gauchocat/519475022/ http://creativecommons.org/licenses/by/2.0/deed.en)

Broadcasts