Main content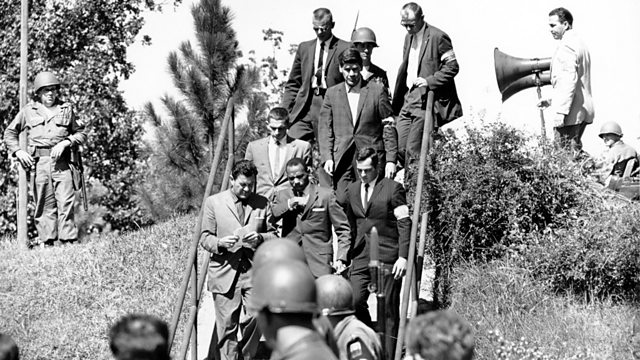 A Long Walk Into History
Sol River talks to James Meredith, who walked into history as the first black student at the University of Mississippi in 1962.
Fifty years have passed since James Meredith became the first black student to be admitted to the University of Mississippi - an event that brought the segregated state of Mississippi into virtual insurrection against the newly elected administration of President Kennedy.
On Kennedy's orders 16,000 US troops helped ensure that James Meredith was enrolled at 'Ole Miss', the symbolic heart of southern white pride and power. Meredith changed history in the face of violent and often terrifying opposition. He saw himself on 'a mission from god', a warrior not for the cause of civil rights but for his own birth rights and citizenship.
In 1966, Meredith embarked on his 'Walk Against Fear', a 225 mile journey from Memphis to Jackson, Mississippi in part to encourage black Mississippians to register to vote. He was shot and wounded two days into his walk. Twenty-five thousand people, led by Martin Luther King, would complete the march as the civil rights movement began to fragment along different paths.
James Meredith changed history. There is a statue to him on the campus of 'Ole Miss' near to that of a confederate soldier. But Meredith sees nothing to celebrate as the rest of America marks his moment. He is a controversial figure who finds himself uneasy with the definition of victory and achievement in the cause of civil rights. Consequently he rarely speaks in public.
Writer Sol B River has long been fascinated by the complexities of Meredith's story and character, and here he talks with Meredith at length as he seeks to understand one man's war and his place in history.
(Image: Civil rights activist James Meredith, center, is escorted by US marshals and troops en route to classes at the University of Mississippi. Credit: AP Photo)
Last on
Broadcasts