Main content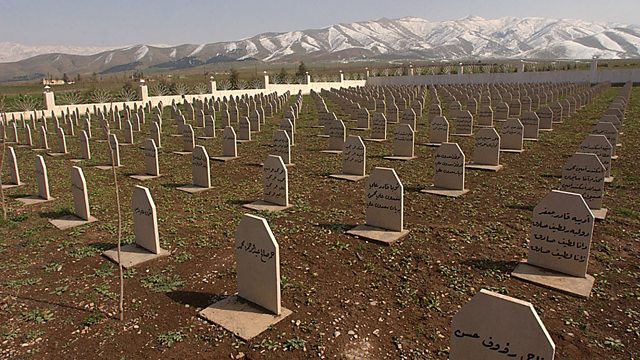 The Halabja Project
John Simpson returns to Halabja, a Kurdish town which was the site of a chemical weapons attack, unleashed by Saddam Hussein in 1988.
In March 1988, Saddam Hussein unleashed the full cruelty of chemical weapons, attacking the rebellious Kurdish town of Halabja. It is estimated that the mustard gas and other chemicals killed at least 5000 civilians. They were hastily buried in mass graves, unidentified and unidentifiable, because of the continued risk of poisoning. There are still traces of mustard gas remaining in cellars in the town, making them inaccessible to this day.
The BBC's foreign affairs editor John Simpson returns to Kurdistan nearly 25 years after this chemical attack on civilians. With the fall of Saddam Hussein's regime, and his trial and execution in 2006, much has changed in this region of Iraq, but for many citizens of Halabja there remains a quest for justice. A British forensics company now believes it can help by identifying the precise chemicals used and the European companies suspected of supplying them.
Now a British company is to start a four-year project to excavate Halabja, carrying out DNA tests on those who died in 1988 to identify the remains, find out exactly what killed them and to make the cellars safe.
Their DNA tests may reveal whether indeed the precursor chemicals for the mustard gas used in 1988 was, as is believed, manufactured by a German company. Saddam Hussein's mustard gas was unique, with a particular binding chemical agent not used anywhere else. No proper tests have been carried out until now to identify the particular gas used in the attack.
John reports on the science of the DNA and chemical/biological gas tests, investigates the role of Germany in providing the chemicals, and hears the heart-wrenching stories of survivors wanting to locate the bodies of their relatives, a quarter of a century on.
(Image: Gravestones, Credit: Getty Images)
Last on
Broadcasts