Istvan Szabo
Istvan Szabo was born in Budapest in 1938 and the films that led to him becoming the most acclaimed Hungarian director of his generation have frequently drawn on the struggles between conscience and ideology that he both experienced and witnessed at first-hand in post-war central Europe. His latest film The Door stars Helen Mirren as a Hungarian novelist's maid. He talks to Phillip Bergson about his life and career.
Photo by Oleg Nikishin/Epsilon/Getty Images.
Last on
Istvan Szabo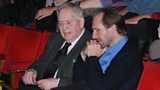 Photo: Hungarian Cultural Centre London.