Main content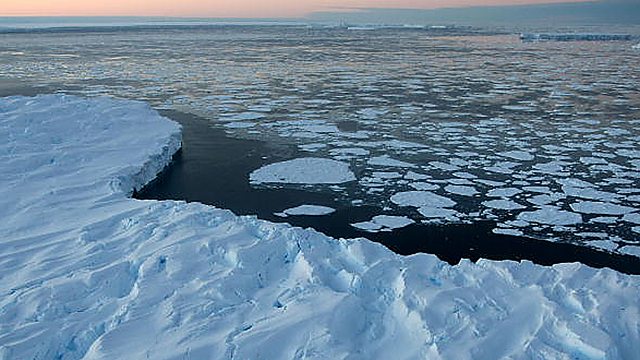 Melting ice caps
Satellite data shows Polar ice caps are melting; Small-scale wind turbines; Recent evolution shown in genome; SPAUN the Artificial brain
Melting ice caps
A new report shows that nearly all regions of the polar ice sheets in Greenland and the Antarctic are melting. It's been happening for the past 20 years. Andy Shepherd, Professor of Earth Observation at University of Leeds, is part of a team who have been combining data from a number of satellites surveying the regions. The results, although still imprecise are much more robust than previous attempts to measure ice loss and the resultant sea level rise.
(Photo credit: Getty Images)
Small scale wind turbines
Wind energy is already harnessed for power in 83 countries and in Denmark a quarter of electricity is generated by wind. But on a smaller scale it's quite a different story. Jon Sumanik-Leary, a PhD student from the University of Sheffield, gives his take on generating power from wind in remote communities.
Recent evolution shown in genome
Large scale genome studies have been giving us lots of clues about human evolution. But a new study looking at some of the subtle, rare genetic variations in European and African Americans genes, has shown some of the most recent evidence of human evolution. Many of the mutations that can code for disease, occurred only 5 to 10,000 years ago.
Artificial Brain
The computer model SPAUN, which behaves like an artificial brain, has been undertaking some very human tests. Spaun stands for Semantic Pointer Architecture Unified Network. It's performed a series of tests, including remembering long strings of numbers, mental arithmetic and learning and drawing. The results are showing Spaun to behave very like a human brain, including making mistakes.
This week's programme presented by Tracey Logan
Last on
Chapters
Melting ice caps

Polar ice sheets in Greenland and the Antarctic are melting

Duration: 04:02

Small scale wind turbines

A take on generating power from wind in remote communities

Duration: 02:49

Recent evolution shown in genome

Looking at recent human evolution through rare genetic variations in genome

Duration: 04:40

Artificial Brain

Artificial brain, SPAUN, has been undertaking some very human tests

Duration: 05:31

Broadcasts