Main content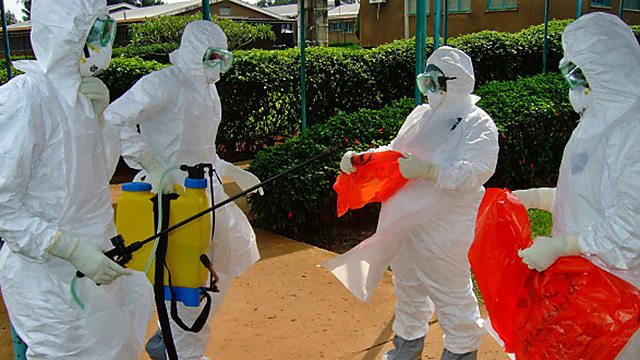 Airborne transmission of Ebola
The spread of Ebola through the air; Have drought predictions been overestimated?; Using nanoparticles and sunlight to make steam
Ebola Transmission
In the last few months there have been several outbreaks of the deadly Ebola virus in Uganda and the Democratic Republic of Congo, the first time there have been so many in quick succession. Up until now, it has been thought that it is only spread through direct contact and bodily fluids. However new research now shows that the deadliest form of the disease infects pigs, and can also be spread through the air from pigs to monkeys. Dr Gary Kobinger from the University of Manitoba in Winnipeg, Canada is one of the scientists behind the findings.
(Photo credit: AFP/Getty Images)
Drought modelling
Using a drought model called the Palmer Drought Severity Index, it has generally been thought that droughts have been increasing dramatically since the 1970s, partly to do with global warming. This index is one of the principal ways of analysing agricultural drought and informed a 2007 report from the IPCC, the Intergovernmental Panel on Climate Change. But in a letter to the journal Nature, three scientists argue that the Palmer Index is not accurate, that drought predictions have been overestimated and there has been little change in drought over the last 60 years. Dr Justin Sheffield, a hydrologist at Princeton University in the United States, is one of the letter's authors.
Professor Richard Harding, from the Natural Environment Research Council's Centre for Ecology and Hydrology, agrees with many other scientists that there are limitations with the Palmer Index. He is also one of the reviewers for the next IPCC report.
Solar Steam
Using metallic and carbon conductive nanoparticles and sunlight, scientists from the United States have developed a fast and efficient new technique to generate steam, without boiling water. Professor Naomi Halas from Rice University in Texas is leading the team who are working on using "solar steam" for sanitation and sterilisation devices.
This week's programme is presented by Sue Nelson
Chapters
Ebola transmission

New research showing that the Ebola virus can be spread through the air

Duration: 05:26

Drought modelling

Have drought predictions been overestimated?

Duration: 06:07

Solar steam

A fast and efficient new technique to generate steam using nanoparticles

Duration: 05:13