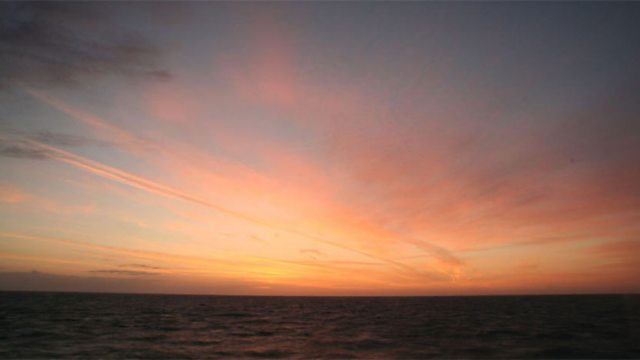 Thought for the Day - Akhandadhi Das - 18/10/2012
Good morning. This week, the inhabitants of Ilfracombe welcomed a newcomer to their seaside town. "Welcomed" may be a bit generous. The town is seriously split between acceptance and animosity towards Verity, the 66ft bronze-coated statue created by local lad and celebrated artist, Damien Hirst.
Some people say that the scale and subject of this massive installation are just not in keeping with the fishing port and holiday resort. Others feel she'll be an asset. The statue is a controversial mash-up (to use a modern music phrase) of Degas' ballerina, the symbols of the Old Bailey and an anatomical model. Initial comments include: grotesque, obscene; but also beautiful, unique. However, the piece doesn't enjoy much support amongst art critics. "There is no beauty and no truth there", says one.
The Hindu view considers that the purpose of art is to attract our minds towards divine beauty and spiritual truth through the vision and skill of the artisan. And, although Verity may seem a long way from the magnificent sculptures of some ancient Vedic temples – they do share one artistic aspiration: they're thought-provoking.
The artist himself has offered little in terms of explanation of this allegory of truth – other than to note that, with the scales hidden, the raised sword might be more an instrument of power than of justice. So, that leaves us all free to offer our own thoughts inspired by Verity. My mind turns to the Gita, in particular the 10th chapter in which Arjuna prays to God: "How should I meditate on you? Excerpts from the Gita's response to this question could, I think, act as inscriptions for the statue.
For the sword and scales, there might be: Of punishments, I am the rod of chastisement and for those who seek victory and justice, I am morality.
In celebration of the feminine spirit, there could be the text: In women, I am fame, fortune, speech, memory, intelligence, faithfulness and patience.
While pondering the skin peeled back on Verity's breast, abdomen and thigh, which reveals the internal workings of the physical body, I'd suggest the statement: The spirit soul is seated as if on a machine made of the material energy. Knowledge entails understanding the difference between the body and the owner of the body.
And, in meditating on the statue's exposed image of the unborn baby within the womb, Krishna says: All species of life are made possible by the soul taking birth within a material body – but you should know that I am the seed-giving father, the ultimate cause of all life.
It's been said in Verity's defense that she will bring tourists and much-needed business to the local community. Is she beautiful? The debate goes on. But, perhaps she does hold one or two truths of her own.