Main content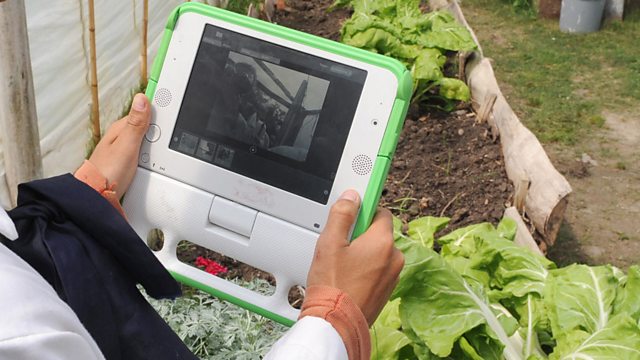 One Laptop per Child: Ethiopia
A report on the illiterate Ethiopian children who learnt to use tablet PCs without instructions; Hollywood's embrace of 3D printing; The art of manipulating laser tweezers
OLPC: Ethiopia
The organisation, One Laptop per Child, has conducted an experiment in two Ethiopian villages giving children access to tablet PCs. The catch though is that the children are illiterate, have never used computers and receive no instructions on their use. The researchers have monitored how speedily and freely the children began to use the computers. But some critics have questioned the science behind the experiment, even if it is well-intentioned. Ed McNierney, from the One Laptop per Child organisation discusses the project.
Iron Man and 3D Printing
Hollywood has not been slow to wake up to the myriad applications of 3D printing. Its benefits will soon be apparent to fans of the Marvel, Iron Man series. Iron Man 3 which comes out next year is sure to be a beneficiary of 3D printing, with the use in pre-production of models for the Iron Man characters. The special effects studio Legacy Effects have already shown what they can do with models in the previous Iron Man films. The studio was showing off figures and masks produced through a combination of rapid prototyping and traditional human model-making at the recent 3D Printshow in London. Click spoke to Legacy Effects' lead systems engineer, Jason Lopes, at the show.
Dundee's HoloHands
3D manipulation of microscopic objects has been given a boost with a system called HoloHands. It enables scientists to manipulate tiny entities like individual cells by providing them with a highly accurate set of tweezers, called 'laser tweezers'. These tools, though, are extremely difficult to use. A team at the University of Dundee in Scotland have come up with the novel idea of remote control of the laser tweezers using Microsoft's Kinect games controller. One of the researchers, David McGloin explains the process.
(Image: A child holds a laptop, Credit: AFP/Getty Images)
Chapters
OLPC: Ethiopia

A report on how illiterate Ethiopian children learnt to use computers without instructions

Duration: 07:36

Iron Man and 3D Printing

Special FX expert, Jason Lopes, discusses how Hollywood has embraced 3D printing

Duration: 05:16

Dundee's HoloHands

David McGloin describes how Kinect helps to manipulate tiny 'laser tweezers'

Duration: 03:38