Heading forensic psychiatry in Uganda
Dr Margaret Mungherera, a forensic psychiatrist from Uganda, tells how she's become friends with one of the killers she treated.
Zhu Shumei is the basketball playing granny from China who's become an internet hit.
And Massoud Hassani is the Afghan-born man who's designed a wind powered mine sweeper based on his childhood toys.
Image: Dr Margaret Mungherera
Last on
China's 'Basketball Granny'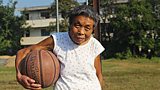 Zhu Shumei, the 76-year old basketball player who's become an internet hit in China