Main content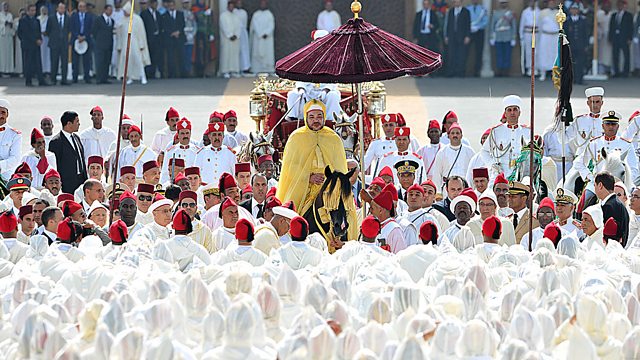 The King and the Arab Spring
Morocco has so far avoided the Arab Spring. How much is that due to its King who holds God like status for his people?
The King of Morocco, descendant of the Prophet Mohammed and Commander of the Faithful, is an Arab Spring survivor.
While most of North Africa has been swept by revolution and bloody regime change, Morocco's ancient monarchy has stood firm.
In Morocco, street demonstrations accelerated the pace of reform but did not lead to revolution.
For Heart & Soul, John Laurenson travelled to Morocco to find out how religion has played a crucial role in keeping Mohammed VI on throne. How, despite abandoning his sacred status, the monarch is still revered by his people. How the Berbers or Amazighs, the indigenous people of North Africa, see him as a protector of their un-orthodox form of Islam.
How the King supports – and protects – a traditionally tolerant and open form of the faith. And how some would like to use religion to unseat him.
(Image: King Mohammed VI of Morocco parading on horseback at the Royal Palace in Rabat, Credit: AFP/Getty Images)
Last on
Broadcasts