Main content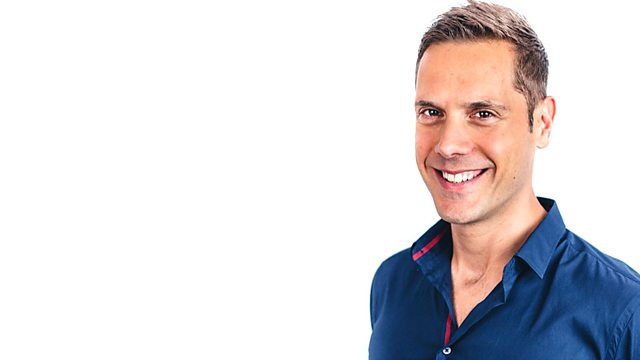 Cooking on a budget
Live in the BBC Radio Leicester kitchen cooking for the family on a budget. Top tips and expert advice for the most novice of cooks plus some recipes like Pork & Apple Meatballs & Jim's flapjacks!
Jim's choc chip flapjacks
Ingredients
225g/8oz soft brown sugar (I use light muscovado but Demerara is fine)
225g/8oz butter
3 tbsp golden syrup
350g/12oz whole oats (don't use quick oats as they're too small)
110g/4oz chocolate chips (dark chocolate is best)
3 tbsp chopped ginger in syrup (optional for a grown up twist!)
Preparation method
Preheat the oven to 150C/300F/Gas 2.
Place the sugar, butter and golden syrup together in a large saucepan and heat gently until the butter has melted, stirring regularly.
Take the pan off the heat and stir in the oats, chocolate chips & ginger if required. Mix thoroughly.
Put the mixture into a lined and lightly greased tin and press it out evenly. Bake in the centre of the oven for around 45 minutes.
Allow the mixture to cool in the tin for 10 minutes before cutting into oblong bars. Leave the flapjacks in the tin until they cool, then remove.
They should keep well for up to a week.
Lisa's Microwaved Jam Sponge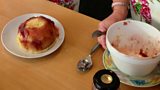 Ingredients
100g margarine, plus some for greasing the bowl
100g granulated sugar
2 eggs beaten
100g self-raising flour
2-3 tablespoons of milk
2 tablespoons of jam
Method
Beat the margarine and sugar together.
Add the beaten egg.
Fold in the flour and add enough milk to achieve dropping consistency.
Grease a microwave bowl with margarine.
Drop the jam in the bottom of the bowl and put the mixture on top.
Cover the bowl with a small plate or Microwave Clingfilm, leaving a small gap for the steam to escape.
Microwave on 'high' for 8 minutes (based on an 800W microwave).
Leave to stand for a couple of minutes before turning it out.
Serve with custard or ice-cream.
Lisa's Thick and Creamy Vegetable Soup
Ingredients
1 tablespoon olive oil
450g carrots diced
1 medium onion chopped
2 medium potatoes diced
½ a small swede diced
1 green pepper deseeded and chopped
A handful of french beans
A handful of broad beans
1 patty pan or courgette diced
Enough vegetable stock to cover all the vegetables
35 grams plain flour
450 ml milk
Cheese to sprinkle on top
Method
Fry the carrots, onion, potatoes and swede, until soft.
Add the other vegetables and then only just cover them with vegetable stock.
Simmer for 30 minutes.
Take half of the vegetables out of the pan and a couple of tablespoons of the stock and blend or liquidise it down. Then add it back to the pan.
Mix the flour with a little bit of the milk in a separate bowl and then stir in the remaining milk.
Pour the milk mixture into the soup and bring to the boil stirring all the time as it thickens.
Simmer for 5 minutes.
Serve with a sprinkling of cheese on top and some nice home bread
Lisa's Parsley Sauce
Ingredients
50 grams margarine
50 grams of plain flour
600 ml milk
2 heaped tablespoons of fresh parsley or 2 teaspoons of dried parsley
Method
Melt the margarine in a milk pan.
Take the melted margarine off the heat and add the flour. Mix in until no flour is visable.
Add a little bit of milk and beat it in, until it is totally combined.
Keep doing this until all the milk is mixed in. There should be no lumps.
Bring the sauce to the boil, stirring all the time.
When it has boiled mix in the parsley and simmer for two minutes.
Pour over your cooked fish.
Rachel's Butternut Squash Risotto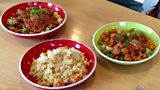 Ingedients
400g Butternut squash - cubed
200g Arborio rice
2 small shallots - finely chopped
3 cloves garlic - pressed
1 litre chicken stock
1 bay leaf
fresh finely chopped flat leaf parsley
pinch paprika
salt & black pepper
75g parmesan cheese
25g butter
Olive oil
Method
Preheat oven to 200ºC/180ºfan/Gas 6
Place cubed butternut squash into ovenproof dish and sprinkle with paprika, drizzle with olive oil and bake until tender
When butternut squash is almost ready you can begin the risotto process...
Add your chicken stock to small saucepan with the bay leaf and parsley, keep on a low heat.
Put 2 tblsp olive oil in frying pan on the heat and sauté the onion and garlic for a few mins until transparent, then stir in the rice.
Add 1 ladle of the stock, stir continuously making sure that you scrape all the flavours from the bottom of the frying pan, they are much too delicious to leave behind! The rice will absorb the stock as it cooks,so just repeat adding stock a ladle at a time until there is just a tiny bit of stock left.
Now is the time to add the squash...stir it in gently, making sure you don't break up the beautiful flesh as it is quite fragile.
Warm some pasta dishes, these are ideal for this lovely dish.
When there is virtually no stock left, remove the pan from the heat and stir in one third of the parmesan.
Divide this delectable feast between the four dishes and sprinkle with the remaining parmesan.
Season with black pepper (salt is probably not necessary as the cheese and stock are quite salty) and serve with a lovely leafy green salad.
Rachel's Pork and Apple Meatballs
Ingedients
400g good quality pork sausages
1 large Cox apple - grated
4 tblsp olive oil
1 Red onion - finely chopped
1 fat clove Garlic - pressed
1 tin Chopped Tomatoes... no stalks just rich juice and loads of fruit!
1 dsp Sugar
Salt and Black Pepper
Handful chopped Basil/1 tsp dried Basil
500g pasta - dry weight
Method
First of all, slit all the sausages and remove the skins. Mix sausagemeat with the grated apple and then divide into 18. Roll each piece of sausagemeat into a ball with floured hands.
Heat half the oil in a non-stick frying pan. Place meatballs in pan and cook on all sides until sealed. Continue to cook for about 6 - 8 mins.
Remove to a plate and rest them until sauce is made.
Put water for pasta on to boil.
Heat remaining oil in frying pan and cook onion until transparent, add garlic and cook but be careful not to burn.
Add tomatoes and heat through, stir in sugar and seasoning, make sure all is well combined.
Keep sauce on low heat being careful not to reduce it too much.
Return meatballs to frying pan and heat through.
Place pasta into boiling water and then add salt. Cook until al denté.
Juliet's Pitta Pizzas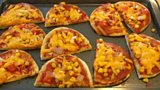 Ingredients
Pitta Breads
Passata or Tomato Puree
Selection of Toppings
Ham, Chees, Pineapple, Peppers, Tomatoes Sweetcorn etc.
Set Oven at 180C as mark 5
Method
Lay Pitta breads on a baking Tray
Spread tomato paste over Pitta and then lay your selected toppings on top.
Cook for 5-10 mins
Juliet's Potato Skins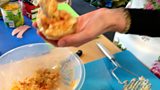 Ingedients
2 Jacket Potatos
1 Rasher Bacon
½ Red Bell Pepper, finely chopped
¼ Onion, finely chopped
Grated Chees
Milk &butter/yoghurt for mashing
Olive Oil
Method
Set oven to 200C. Wash and scrub the potato.
Bake the potato in the oven for 1 hour until the potato is soft to touch
Fry the bacon, onion & pepper lightly in some olve oil until soft.
When the potato is cooked, cut in half and scoop out the flesh into a large bowl, leaving the skins to one side.
Add enough butter/milk/yoghurt to the flesh to make a soft fluffy consistency and add in the bacon mix.
Push the potato & bacon mix back into the potato skins and sprinkle with cheese if required. Pop back in the oven until the cheese has melted.