Janis Sharp: A mother's campaign
Gary McKinnon is a UFO enthusiast who's become a household name in Britain because of his decade-long fight against extradition to the United States. He's wanted there for hacking into American military computer systems around the time of the 9/11 attacks on New York and Washington. He says he was only interested in looking for evidence of unidentified flying objects. His transfer to the United States was set to go ahead, but last week, the British Home Secretary Teresa May, blocked the move on the grounds that Gary - who has a form of autism - was at risk of suicide. Gary probably has his mum Janis Sharp to thank - she's been campaigning tirelessly on his behalf.
An Italian choreographer, Guilio d'Anna, has come up with an unusual way to help his father deal with a debilitating illness. When his dad, Stefano, was diagnosed with Parkinson's two years ago, Guilio decided to create a dance and theatre show about it - and persuaded his father to perform on stage. The show has just won a prize at a dance festival in Maastricht. For Outlook, Dany Mitzman went along to see father and son in action.
Samy Ben Redjeb tells us how his love of African music led him to travel across the continent to hunt down and save recordings from the 1970s. Next month, his Analog Africa label releases Diablos del Ritmo - The Colombian Melting Pot 1960-1985.
Image: Janis Sharp Credit: Getty Images
Last on
Wed 24 Oct 2012
01:32

GMT
Samy Ben Redjeb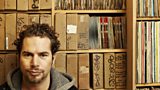 His mission is to track down Africa's lost 70s music