Main content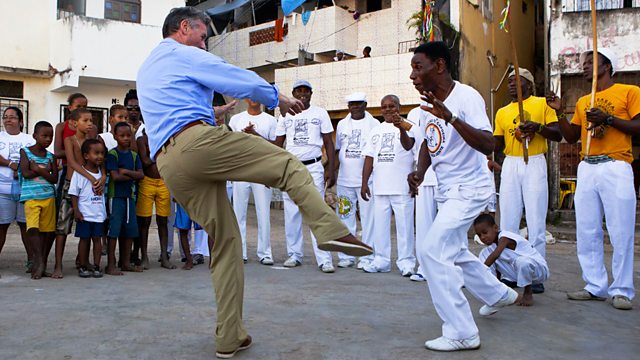 Out of Africa
Documentary series. Michael Palin crosses Brazil to find out what makes it tick. He starts where modern Brazil was born - the north east.
Brazil in the 21st century has become a global player. With a booming economy and massive social changes, there is a swagger to this once-sleeping giant, but what do we know of it apart from football and carnival? Michael Palin has travelled across most of the globe over the years, but never to Brazil. In this four-part series he crosses the country as big as a continent to find out what makes it tick.
He begins his journey in the north east, where modern Brazil was born. It was here the Portuguese explorers first landed and encountered the native Brazilians. It was here that hundreds of thousands of African slaves were brought to work on sugar and tobacco plantations, and it was here where this mix of races and cultures produced what we now think of as Brazil. Music, food, dance, religion - all of these bear the imprint of this heady mix.
He starts in the city of Sao Luis during the celebration of its own very north eastern festival of Bumba Meu Boi - 'Jump My Bull' - before travelling down the coast to Recife and Salvador. On his way, he drops in on the vaqueros - Brazilian cowboys - who work the massive cattle ranches of the dry interior. His travels also take him to the stunning coastal lagoons of the Lencois Maranheses national park.
In Salvador he learns to drum with the famous Olodum school, experiences the trance and dance of Candomble, the Afro-Brazilian religion, finds out how to cook Bahian-style with renowned cook, Dada, and discovers what lies behind the beguiling moves of capoeria dancers. If you want to know what makes Brazil so vibrant, the north east is the place to start.
More episodes
Previous
You are at the first episode
Credits
| Role | Contributor |
| --- | --- |
| Presenter | Michael Palin |
| Series Producer | John-Paul Davidson |
| Director | Francis Hanly |