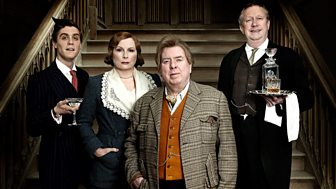 Series 1
Comedy series adapted from PG Wodehouse, starring Timothy Spall and Jennifer Saunders.
On iPlayer
This programme is not currently available on BBC iPlayer
On TV
There are no upcoming broadcasts of this programme
Last on
Mon 18 Feb 2013 23:35
BBC One Northern Ireland, Northern Ireland HD only
Join us as Beach gives a guided tour of Blandings Castle and its ancestral history.
About the Show
Clarence Emsworth longs to be left in peace. But at every turn he is hounded by his imperious sister Connie, his feeble-witted son Freddie and a blizzard of love-struck nieces and their wildly unsuitable boyfriends with only his faithful butler Beach offering reluctant support. Who would be master of Blandings Castle?