Main content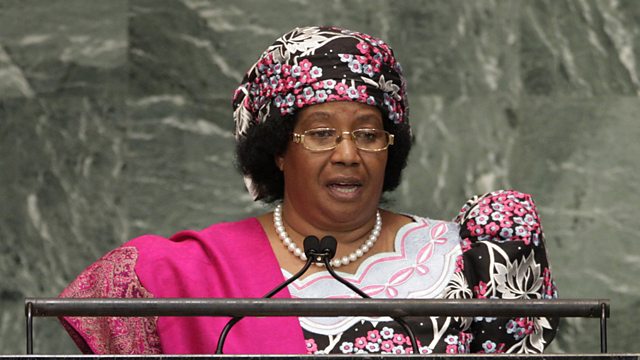 Are women winning the power battle in Africa?
BBC Africa Debate looks at women in power – in politics, business, and management. Are the landmark appointments of the last year part of a wider trend, an acceptance in women's leadership?
BBC Africa Debate comes from Malawi this month and asks whether African women are winning the power battle.
Presented by Audrey Brown from Lilongwe, the debate takes a look at change brought about by African women who have made inroads into traditionally male spheres such as politics, business, the church and management.
In the past 12 months, two African women have been awarded the Nobel Peace Prize - Leymah Gbowee and President Ellen Johnson-Sirleaf, both from Liberia.
Gambia's Fatou Bensouda became the first female chief prosecutor at the International Criminal Court; South Africa's Nkosazana Dlamini-Zuma became the first female chair of the African Union Commission; and the continent gained its second female president as Joyce Banda took the helm in Malawi.
New constitutions in Kenya and Somalia guarantee women a minimum 30% representation in parliament.
A record number of women were sworn in as legislators as Senegal's new parliament was inaugurated last August.
Rwanda has long boasted the highest percentage of female parliamentarians in the world.
However, while many African countries exceed the global average for female parliamentarians and ministers, the World Economic Forum's most recent Global Gender Gap report says that less than one in four managers, legislators or senior officials is a woman in most African countries.
And they are even further behind in the classroom. In fact, when it comes to access to education, sub-Saharan Africa is the most unequal region in the world.
Of the 30 countries with the biggest gap between male and female literacy rates, 23 of them are in Africa. So, how much has really changed?
We want to know whether women perform any differently from their male counterparts, and should they be expected to?
What barriers remain for women with leadership ambitions?
Are affirmative action and quota systems necessary – do they even work?
We will ask whether last year's landmark appointments are part of a wider trend, and how much attitudes towards women in power have changed.
BBC Africa Debate will engage key speakers including politicians, policy-makers, gender activists, business people and professionals such as doctors, lawyers and teachers, as well as religious leaders, writers, journalists, academics and students.
The panel includes:
• Loveness Gondwe, a former MP who founded her own party to stand as the only female candidate in the 2009 presidential election in Malawi
• Bishop Patricia Pindeni, former businesswoman who ran her own successful PR company for 17 years before leaving the Catholic church to set up her ministry
• Seodi White, Executive Director of Women and Law in Southern Africa - Malawi, leading gender activist and scholar
(Image: Malawi President Joyce Hilda Mtila Banda addresses the 67th session of the United Nations General Assembly at UN headquarters. Credit: AP Photo/Frank Franklin II)