Main content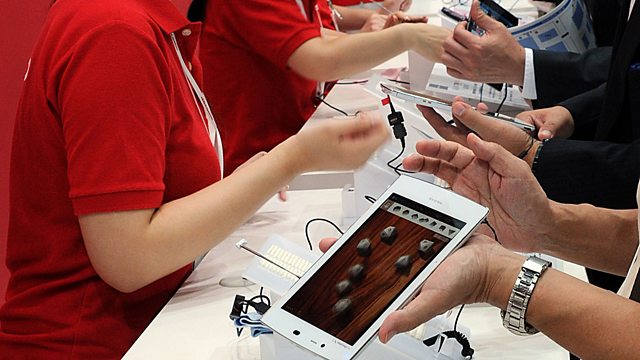 CEATEC 2012
How tech giants are struggling for supremacy at the CEATEC show in Tokyo; News of the artist recreating a '70s videogames arcade; The rise of computer-generated sound FX for films
CEATEC: TOKYO
The big technology firms are determined to outclass each other at this year's CEATEC electronic trade show in Tokyo. Click travels to the Japanese capital to report on the battle for supremacy. Richard Taylor describes the latest wizardry in gadgets and how the companies are planning for the future.
DAVID BLANDY: ODYSSEYS
The artist David Blandy has a love affair with videogame arcades that dates back to the 1970s and '80s. Now, with Odysseys, a recent exhibition in southern England, he has been able to recreate his videogame-loving past by devising an arcade and videogames where his avatar goes into battle.
Blandy playfully draws on the visual language of Japanese anime tradition, to animate his videogames. Colin Grant talks to David Blandy about his interweaving of multiple mediums - video, performance, digital technology and animation in his work.
COMPUTER SOUND FX
Whilst we may have become familiar with computer-generated imagery (CGI) and accept its virtuosity and seeming fidelity; the same cannot be said to be the case for the creation of the sounds that accompany those images. Computers have not played such a big role. Mostly, it has been left to the highly skilled "Foley artists" to create the sounds often from physical props.
That may all be about to change if Doug James, from Cornell University in Ithaca, New York, has his way. James and his team have employed computers to generate sounds used on the soundtracks in the movies. The high fidelity modeling relies on super-fast computing. Doug James joins Click to discuss how it is done.
Last on
Broadcasts