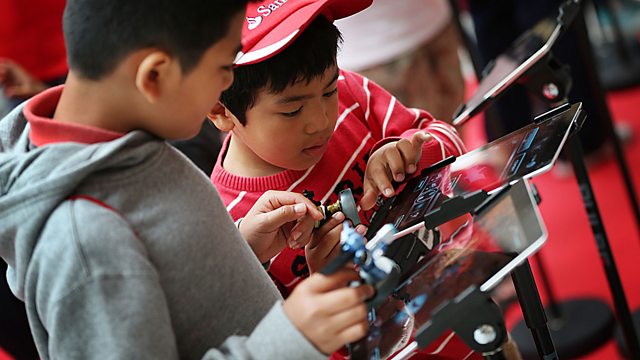 FutureScapes: The digital future in the year 2025
Is full-connectivity with the digital world the ideal or should we be only partially connected; and remain in some way semi-detached from the digital tools readily available to us?
What will the digital world look like in 2025 and should we be afraid? Click looks into the future from the BBC Radio Theatre - not necessarily a world of flying cars, space elevators and personalised 3D printing – but one where everyone is connected and benefits from the tools of digital technology without being overwhelmed by them. That's the starting idea behind FutureScapes, a project that examines how we will interact with technology in just over a decade from now. Gareth Mitchell and Bill Thompson are joined by a panel of experts –Anab Jain, who is working on the Internet of Things Academy; Rodrigo Bautista, from Engage by Design, a research studio that specialises in sustainability in design; and Esther Maughan Mclachlan from Sony Europe - to discuss the brave new world of technology.
(Image: Children using technology Credit: Getty Images)