Main content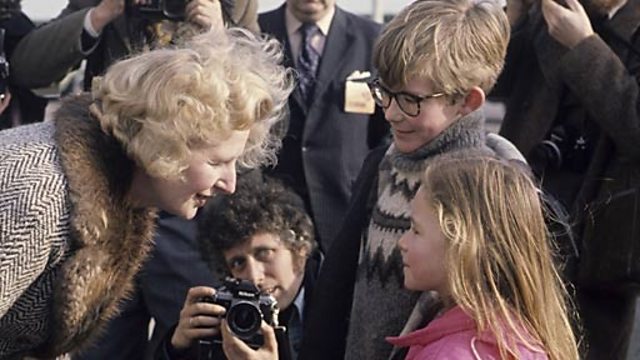 Val Meets... Margaret Thatcher
Series in which Valerie Singleton meets some Very Important People. An audience of children join in and put their questions to this week's guest, the Rt Hon Margaret Thatcher MP.
Valerie Singleton hosts a discussion between the Minister for Education, Margaret Thatcher, and an audience of children. Mrs Thatcher puts forward her own theories about why so few women enter politics and expresses doubt that she will see a female Prime Minister in her lifetime. A short film documents Thatcher's day, beginning with breakfast with her children and continuing with cabinet meetings at 10 Downing Street and a visit to a school.
Reflecting Standards of the Time
Programmes are selected, in part, for their historical context and reflect the broadcast standards and attitudes of their time, which may not accord to some current BBC editorial guidelines. We aim to select programmes which can be shown in their entirety but in some cases edits are required. In these cases, edits are kept to a minimum and are made only for technical reasons.
Did You Know?
Margaret Thatcher was the only politician to appear on Val Meets the VIPs. Other guests in the series included trade unionist Vic Feather, comedians Morecambe and Wise and footballer Jack Charlton.