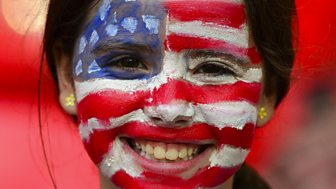 Real America
A series of documentaries showing a different slice of American life, made by US producers, a BBC Public Radio partnership.
On radio
There are no upcoming broadcasts of this programme
Last on
Wed 12 Dec 2012 02:05 GMT
BBC World Service Online
Why are there a growing number of African-Americans who openly don't believe in God?

Benjamen Walker investigates how priority queueing is re-ordering American society

The people in Philadelphia that owe around $1.5 billion in criminal court debt
The BBC Public Radio Partnership Committee
This new scheme, launched in February 2012 gave any radio producer working in the USA -  independent and public radio stations - the opportunity to make a documentary that will show BBC World Service listeners an America that they didn't know existed.
Programmes were selected by representatives from US Partners (AIR, prx.org, WBEZ, WBUR, KPBS) and BBC World Service.
The documentaries broadcast on the World Service, will also be available to any Public Radio Station for broadcast.  
Aim
Building impact in the US, currently our largest market
Stories that will say something about the USA of 2012 giving BBC's audiences around the world a deep understanding of American society and the direction it's travelling in
Cutting-edge documentaries on air and online
Showcasing talent 
Access to digital public radio network and community of producers