Main content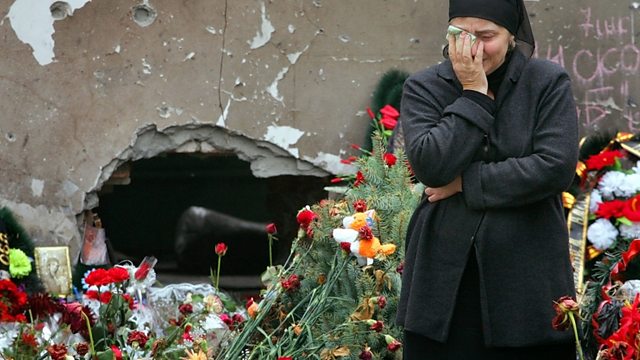 Reporting Beslan
Hiding whiskey from the Farc and deciphering their rap video; and reporting Beslan - the most dramatic and life-changing experience for two journalists.
A fresh look at the week's global news from across the World Service's 27 language sections, with David Amanor.
HIDING WHISKEY FROM THE FARC
The Revolutionary Armed Forces of Colombia (Farc) have released a new video and it seems that they have a new PR style. It's a dramatic turn away from the traditional proof-of-life videos where hostages plead for a peace deal, and instead their latest communique appears to lay out the movement's latest intentions in a homemade rap video. Head of BBC Mundo Hernando Alvarez says it's the weirdest thing he's ever seen and he has some considerable experience of reporting the activities of the Farc - including the time he had to hide his stash of whiskey from them.
STORIES FROM THE FRONTLINE: REPORTING BESLAN
The 1st of September should have been a day of celebration for the start of the school year in Russia. But in 2004, for more than 1,000 men, woman and children in Beslan's School Number One it was the beginning a nightmare as Chechen gunmen seized control of the school, and took them hostage. It ended three days later in a chaotic bloodbath with more than 300 people dead - over half of them children. Zoya Trunova and Artyom Liss had flown in from Moscow to report on the siege. They describe what was the most dramatic experience of their working lives.
ONLINE GREATEST HITS
Thomas Pappon gives the lowdown on the big-hitting stories across the World Service language sites this week - including a serial Indian bride, a scrap metal Lamborghini and a tiger mosquito worthy of a horror film.
(Image: A grieving mother at the remains of the gymnasium at Beslan's School Number One. Credit: AP Photo / Ivan Sekretarev)