Main content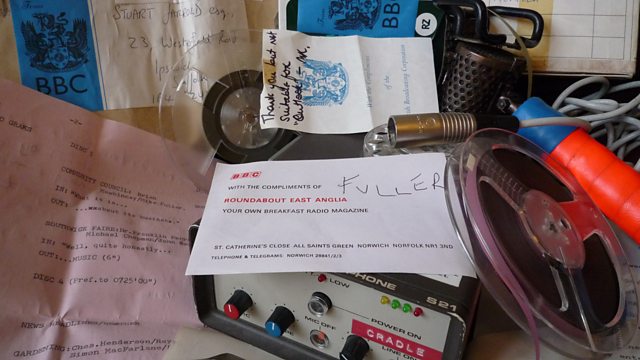 Radio in a Roundabout Way
The story of "Roundabout East Anglia", the BBC's regional radio programme broadcast from Norwich in the years before BBC Radio Norfolk began.
Roundabout East Anglia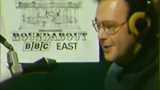 The BBC arrived in the East of England in 1956, opening a regional headquarters in a Georgian house at All Saints Green in Norwich.
From here they broadcast regional radio programmes for East Anglia from February 1957, and from 1959 the TV news bulletins which eventually became Look East. The radio programmes covered the same area still served by Look East today, so weren't "local radio" in the sense we now know it.
It was in April 1970 that the first daily radio news magazine, This is East Anglia, began. This was a half-hour show presented by former Radio Caroline DJ and Look East presenter Tom Edwards.
In August 1974 this was succeeded by Roundabout East Anglia, a two-hour show presented by the first Blue Peter presenter, Christopher Trace, and overseen by editor Michael Chapman. Roundabout ran on BBC Radio 4's FM frequencies in place of the Today programme, while national Radio 4 continued on medium or long wave.
Trace was succeeded as presenter by Ellis Hill, and later John Mountford. The show ran through until May 1980, when it closed due to the imminent arrival of BBC Radio Norfolk, which opened on the 11th of September 1980. However, it wasn't until 1990 that the full area Roundabout had served was finally covered by other BBC Local Radio stations, when BBC Radio Suffolk started transmitting.
Several of those who worked either on-air or behind-the-scenes on Roundabout East Anglia went on to become familiar voices on BBC Radio Norfolk down the years. They included our first two breakfast show presenters, John Mountford and Phil Johnson, producer John Mills, Roundabout's AA travel reporter Roy Waller, and also the likes of Maggie Secker and Lesley Dolphin.
Credits
| Role | Contributor |
| --- | --- |
| Interviewed Guest | Tom Edwards |
| Interviewed Guest | Michael Chapman |
| Interviewed Guest | Ellis Hill |
| Interviewed Guest | Phil Johnson |
| Interviewed Guest | Maggie Secker |
| Interviewed Guest | John Mountford |
| Interviewed Guest | Stuart Jarrold |
| Interviewed Guest | Michael Drake |
| Producer | Paul Hayes |