Main content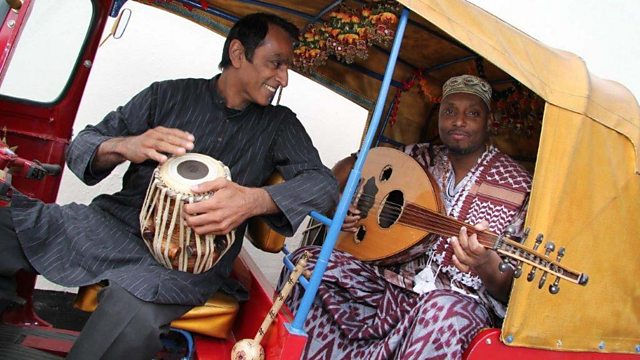 31/08/2012
Somali Party Southall, arty artifical legs, and art of Kazakhstan.
The best of the world's arts, film, music and literature brought to you every day.
Presented by Harriett Gilbert.
On today's programme: Two cultures meet up in London and musicians from two continents create an exciting blend - we hear from award-winning percussionist Kuljit Bhamra and Abdulkarim Raas (pictured).
American designer Scott Summit is transforming artificial limbs into works of art that express the wearer's personality. Nomads and Networks - an exhibition looking at the art and culture of Kazakhstan opens in Washington DC, showing a long tradition of craft and beauty.
Image: Kuljit Bhamra on tabla and Abdulkarim Raas on Oud.
Photo credit: Ammy Phull
Chapters
Somali Party Southall

Two cultures meet up in London, and musicians from two continents create an exciting blend; We hear from award-winning percussionist Kuljit Bhamra and Abdulkarim Raas.

Duration: 07:18

Arty Artificial Legs

Prosthetic limbs have traditionally been designed for function rather than beauty. Now an American designer is transforming artificial limbs into works of art that express the wearer's personality.

Duration: 05:35

Art of Kazakhstan

Nomads and Networks: an exhibition looking at the Art and Culture of Kazakhstan opens in Washington D.C., showing a long tradition of craft and beauty.

Duration: 04:38