Main content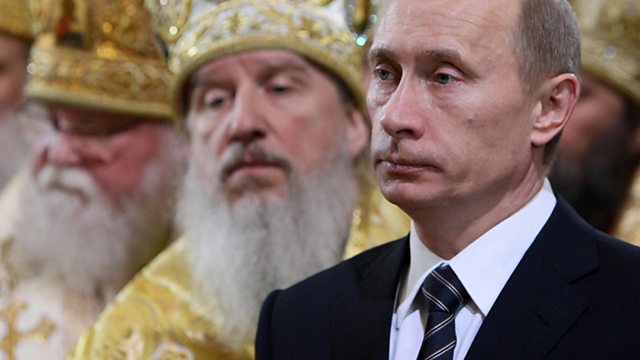 Putin And The Patriarch
Tom Esslemont reports from Moscow on the relationship between Church and state in Russia - in light of the Pussy Riot court case.
In a court room in Moscow, a trial has been taking place of Pussy Riot. The anarchist punk rock group who stormed the Cathedral of Christ the Saviour in Moscow, to protest against President Putin.
Their high profile court case has shed a bright spotlight on the close relationship between the Orthodox Church, and Russia's political elite.
For decades - under communist rule - the Russian Orthodox Church was an underground movement, barely tolerated by successive regimes.
Tom Esslemont reports for Heart And Soul on how the Church is now at the top table of Russian politics.
Its charismatic leader Patriarch Kirill, is a confidante of President Putin and they are regularly seen together. But this has disturbed many Russians who feel the church should be a critic of the government, not an ally.
Esslemont meets critics and supporters, who explain to him how, and why the Orthodox Church and Kremlin have become so close and why this relationship is so beneficial to both sides.
(Image: Russian Premier Vladimir Putin (R) attends the enthronement ceremony of Russian Orthodox Patriarch of Moscow and All Russia Kirill in Christ the Savior cathedral in Moscow. Credit: ALEXEY DRUZHININ/AFP/Getty Images)
Last on
Broadcasts