Main content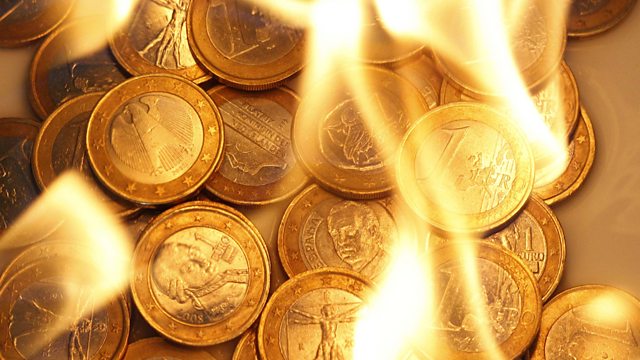 When does crisis become disaster?
We explode the myth of decoupling - showing how the pernicious effects of Europe's troubles are now spreading across the world. And, the secrets of selling to China's elusive consumers.
We routinely describe the economic woes facing Europe as a "crisis" but is that right? Doesn't the word "crisis" suggest a temporary, emergency situation? Yet the so-called eurozone crisis has been going on for more than two and a half years now.
Isn't it about time we came up with a better description? We'd like your thoughts on an email to world.business@bbc.co.uk but in the meantime I'd like to kick things off by suggesting "eurozone disaster" as a possible alternative.
I defend the "d"-word - disaster - on the basis that now the problems in the eurozone are now so pernicious they are spreading across the world.
Remember how, not so long ago, economists used to argue that emerging economies would be immune from the effects of recession in the developed world? The argument ran that they had somehow "decoupled" from the West.
Well, the eurozone disaster is now proving that decoupling was a myth, as Michael Andrew, the chairman of the global accounting giant KPMG, explains to Justin Rowlatt.
Mr Andrew says the world economy is experiencing momentous changes - a great rebalancing of global wealth. This process has made emerging nations the most exciting economies in the world. But inevitably not all of them are going to live up to their potential.
So the key question for investors is which ones have what it takes to make the transition to mature developed economies - which ones are - to use the jargon - "breakout nations"?
Justin Rowlatt meets Ruchir Sharma at the Royal Society of Arts, an institution founded back when Great Britain was on the cusp of becoming a breakout nation. Mr Sharma is head of emerging markets at Morgan Stanley and author of "Breakout Nations".
Plus, one country rises head and shoulders above the other so-called breakout nations -China.
China has experienced 30 unbroken years of economic growth - often at rates above 8% a year.
This explosion in wealth coupled with the country's vast population make China a very attractive market. But foreign firms are often wary of entering China's famously competitive business world.
So what does it take to appeal to the elusive Chinese consumer?
Tom Doctoroff is one of Asia's leading advertising executives. He is Greater China CEO for J. Walter Thompson: an American who has been working in China over the last twenty years and he has just published a book addressing precisely that question.
(Image: Euro coins in flames. Credit: Reuters)
Last on

Broadcasts

How the 2008 crash shaped our world