Main content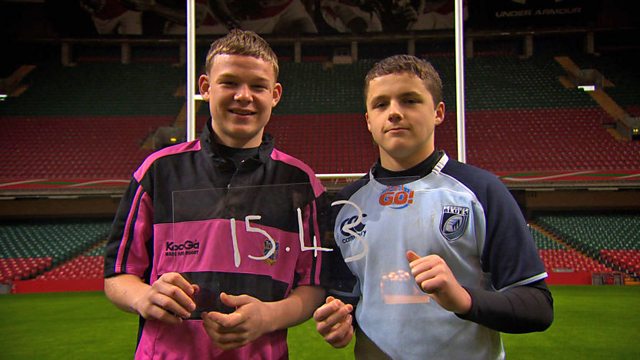 Maths Key Stage 3 - Rugby Pythagoras challenge
321 Go! is a sports-maths challenge show which reveals how important maths is to sport.
Two rugby-mad Key Stage 3 schoolchildren are taken on a behind-the-scenes tour of the Millennium Stadium in Cardiff. They meet two Welsh Rugby Union stars, Lloyd Williams and Harry Robinson, and are set a sports maths challenge related to rugby.
They must work out how far the rugby ball travels in a straight line when it is kicked over the posts from a given spot on the pitch.
Having completed the challenge, the two children are presented with 3,2,1, Go! medals by our two rugby player stars.
Duration:
More clips from Key Stage 3
More clips from 3, 2, 1, Go!