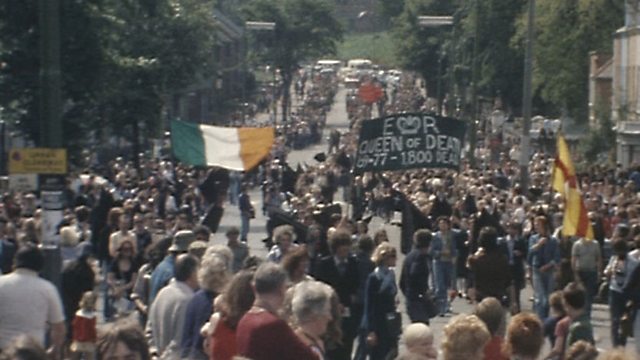 Republicans march against Queen's visit
Republicans in Belfast riot and march in protest against Queen Elizabeth II's Silver Jubilee visit to Northern Ireland (10 to 11 August 1977). They carry a banner bearing the slogan 'Queen of Death'.
In the run up to the Queen's visit the Irish Republican Army mounted a campaign of violence, hoping to have it cancelled. The IRA organised a spate of arson attacks on Protestant-owned shops in Belfast and in the nearby garrison town of Lisburn. The attacks caused damage with an estimated repair bill of £1 million (£8 million in today's money).
Due to the IRA's threat to give the Queen "a visit to remember", a specially strengthened contingent of 32,000 troops and police were on duty.
Duration:
Featured in...
BBC archive clips of Queen Elizabeth II's visits to Northern Ireland.