Main content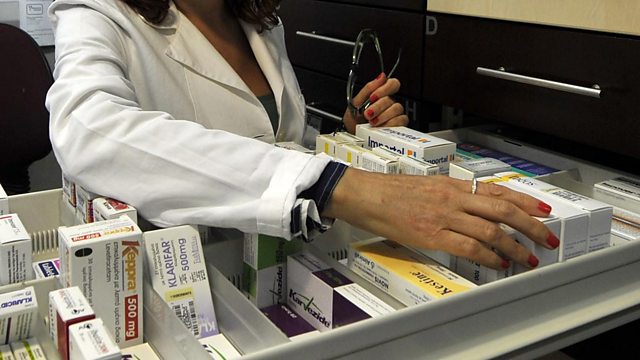 13/06/2012
A shortage of critical medicines in Greece; using horses for medical therapy; should we stretch before exercising?
GREEK PRESCRIPTION DRUGS CRISIS
One of the latest consequences of the economic crisis in Greece is a dangerously low supply of critical medicines. As a result, queues of people have formed outside pharmacies and in Athens a helpline has been set up for cancer patients who can no longer get hold of the drugs they need.
The debt crisis has caused a severe cash flow problem for pharmacists, who are owed money by public health insurers. As well as not having the funds to order any drugs, pharmaceutical companies have reduced the quantity of drugs they are supplying to Greece. Consequently many pharmacies have had to close, and those that have remained open have severe shortages of drugs.
To find out what impact this is having on patients, Claudia Hammond speaks to John Dagres, a board member of the Attica Pharmacists' Association, who joins her from his busy pharmacy in central Athens. He explains that he is currently short of more than 170 different drugs.
HIPPOTHERAPY
The human bond with horses dates back thousands of years. In recent years horses have been put to work to help people with physical and cognitive disabilities find more freedom, mobility and overall well-being. Today about two dozen countries use some form of what is called hippotherapy.
Hippotherapy is not therapy for horses, but a form of equine therapy, which takes its name from 'hippo', the Greek word for horse. An increasing number of physical and occupational therapists are now using it to treat neuromuscular and cognitive disorders.
Susan Moran reports from Front Range Hippotherapy, a ranch tucked away at the eastern edge of the Rocky Mountains near Boulder, Colorado.
STRETCHING BEFORE EXERCISE
The theory that stretching before or after exercise can prevent injury and soreness probably came about because it was once thought that muscles felt sore after exercise as a result of going into spasm. The thinking on this has now changed, so what does this mean for people exercising? Should we stretch beforehand or does it make no difference?
Professor Rob Herbert, from the George Institute at the University of Sydney in Australia, has reviewed the small number of studies that have been conducted on this for a Cochrane Review. He explains what the evidence shows.
(Image: A pharmacist looks for a prescription drug at her pharmacy in Athens. Credit: AFP / Getty Images)
Chapters
Greek Prescription Drugs Crisis

A life-threatening shortage of critical medicines as a result of the debt crisis

Duration: 05:49

Hippotherapy

Using equine therapy to treat neuromuscular and cognitive disorders

Duration: 05:56

Stretching and exercise

Does it help prevent muscle soreness and injury?

Duration: 05:12