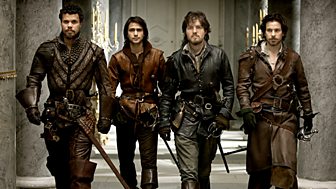 Series 1
A thrilling world of action, adventure and romance inspired by Dumas' legendary characters.
On TV
There are no upcoming broadcasts of this programme
Last on
Sun 30 Mar 2014 21:00
BBC One
Check out The Musketeers' progression from trotting to galloping on horseback.

The boys describe their boot camp training to play The Musketeers.

Peter Capaldi describes the ambitious dark side of Cardinal Richelieu.
The Musketeers music
The music to The Musketeers was created for the programme by Murray Gold. Unfortunately it is not commercially available.