Main content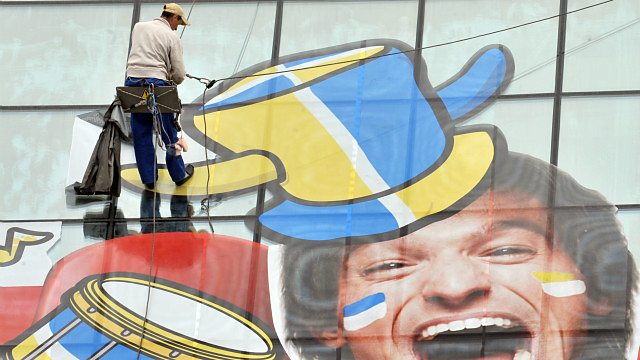 02/06/2012
BBC Ukraine in the spotlight as the country faces a deluge of bad press; motorbikes, voodoo, and a subversive grandmother in Benin; and royal dos and don'ts from Burundi, Iran and Afghanistan
A fresh look at the week's global news from the World Service's 27 language sections, with David Amanor.
UKRAINE IN THE SPOTLIGHT
The Ukrainian service has been feeling the aftershocks of the BBC Panorama documentary which exposed racism in Ukraine's football stadiums ahead of the Euro 2012 tournament. The investigation showed disturbing footage of Asian students being attacked on the terraces by fellow supporters, seemingly for no other reason than the colour of their skin. It comes at a time when the country has faced a deluge of negative press. Irena Taranyuk and Andriy Kravets from the Ukrainian Service have been in demand explaining the story and assessing reactions in Ukraine. They tell us about picking their way through troubled waters and the backlash against the BBC back in Kiev.
AUDIO DIARY FROM BENIN
BBC Afrique reporter Laeila Adjovi has packed the Fifth Floor microphone in her suitcase and taken it on her travels to Benin where she is making features for the launch of BBC Africa TV next month. She leads us through the busy traffic choked streets and introduces us to voodoo, an oracle and her own subversive grandma.
PAPPON'S PICKS
Courtesy of our internet guru Thomas Pappon, this week's online chart toppers from the language services come from BBC Urdu, Mundo, Afrique and Nepali - and range from disappearing countries, naked ladies, to a constitutional dance move. No wonder these stories are so popular.
DO'S AND DON'TS FOR A QUEEN
There seems to be no escaping The Queen's Diamond Jubilee this weekend. But if you've had your fill of British royals here's your antidote: on the Fifth Floor we are joined by Prime Ndikumagenge from the Great Lakes, BBC Persian's Hossein Sharif and our very own real-life princeling, Dawood Azami from the Afghan Stream. They will be sharing royal anecdotes from their experiences of past monarchies and offering up some do's and dont's for the Queen.
(Image: A wall in Ukraine is decorated with a Euro 2012 image. Credit: Getty)