Main content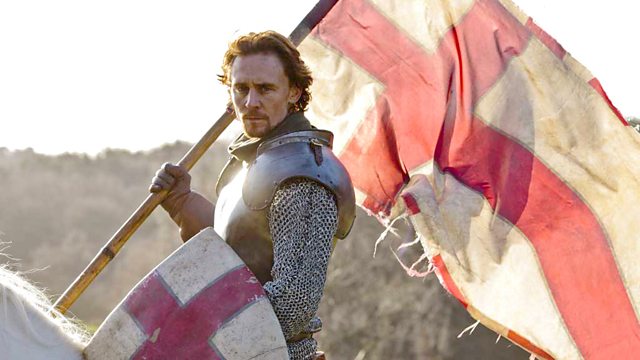 Henry V, now settled on the throne, faces a challenge from France. England prepares for war, and Henry leads his men across the channel where they will meet the enemy at Agincourt.
Henry V has settled onto the throne and has the makings of a fine king when the French ambassador brings a challenge from the Dauphin. Inspired by his courtiers Exeter and York, Henry swears that he will, with all force, answer this challenge. The chorus tells of England's preparations for war and Henry's army sails for France. After Exeter's diplomacy is rebuffed by the French king, Henry lays a heavy siege and captures Harfleur. The French now take Henry's claims seriously and challenge the English army to battle at Agincourt.
Shakespeare Unlocked season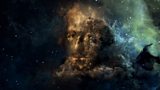 Henry IV and Henry V: Costume Designer Annie Symons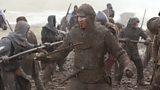 "I looked at football hooligans, the way they move and wear colours. We thought about war as sport which it definitively was in the age of chivalry."
Costume Designer Annie Symons discusses the creative and practical process of clothing the cast.
Credits
| Role | Contributor |
| --- | --- |
| Henry V | Tom Hiddleston |
| Mistress Quickly | Julie Walters |
| The Chorus | John Hurt |
| Alice | Geraldine Chaplin |
| Thomas Erpingham | Paul Freeman |
| Bardolph | Tom Georgeson |
| Duke of Burgundy | Richard Griffiths |
| Duke of York | Paterson Joseph |
| Westmorland | James Laurenson |
| Exeter | Anton Lesser |
| Pistol | Paul Ritter |
| Archbishop of Canterbury | Malcolm Sinclair |
| Captain Fluellen | Owen Teale |
| Princess Katherine | Melanie Thierry |
| Charles, King of France | Lambert Wilson |
| Louis, the Dauphin | Edward Akrout |
| Corporal Nym | Tom Brooke |
| Montjoy | Jeremie Covillault |
| The Constable of France | Maxime Lefrancois |
| Duke of Orleans | Stanley Weber |
| Williams | Gwilym Lee |
| Earl of Salisbury | Richard Clothier |
| Bishop of Ely | Nigel Cooke |
| Peto | John Dagleish |
| Falstaff's Boy | George Sargeant |
| Producer | Rupert Ryle-Hodges |
| Director | Thea Sharrock |
| Author | William Shakespeare |