Main content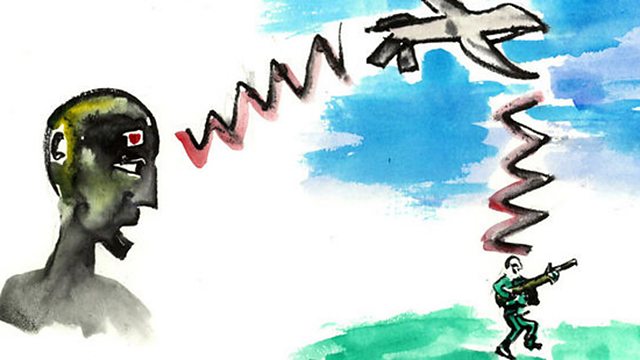 Future Wars
What are the weapons of the future? Will drones really replace fighter pilots? And how might the rules that govern war have to change?
Robot spy planes as small as insects, drones that hover high overhead for days at a time, interfaces to plug a soldier's mind directly into a weapons system and lasers that could temporarily blind you: some of this technology is still on the drawing board but some of it is already used on the battlefield.
How much will all this change wars of the future?
Bridget Kendall discusses the changing nature of warfare with Elizabeth Quintana, a specialist on aerial combat from the Royal United Services Institute in London; Elizabeth Moon, an award winning author of science fiction whose novels often explore military themes; and David Rodin, a leading authority on war ethics from Oxford University.
Illustration by Emily Kasriel: cranial implants allowing us to control drones to observe and kill on the battlefield.
Last on
Chapters
Part 1

Elizabeth Quintana

Duration: 13:59

Elizabeth Moon

Elizabeth Moon

Duration: 09:01

Part 2 60 Second Idea

Elizabeth Moon: Barcode everyone at birth

Duration: 09:01

David Rodin

David Rodin

Duration: 10:57

Broadcasts